Since having my daughter, my hair has definitely been in its worst condition ever. I've experienced the dreaded post-pregnancy hair loss, bad! I've lost clumps of hair with every wash for the past 6 months. While the difference isn't majorly noticeable to other people, to me, I really notice how much sparser my hair looks, particularly around my hairline. So when I was sent Revela Hair Revival Serum to review, I couldn't wait to give it a try. As you can imagine, for someone whose mane is usually her favourite feature – this product totally screamed at me!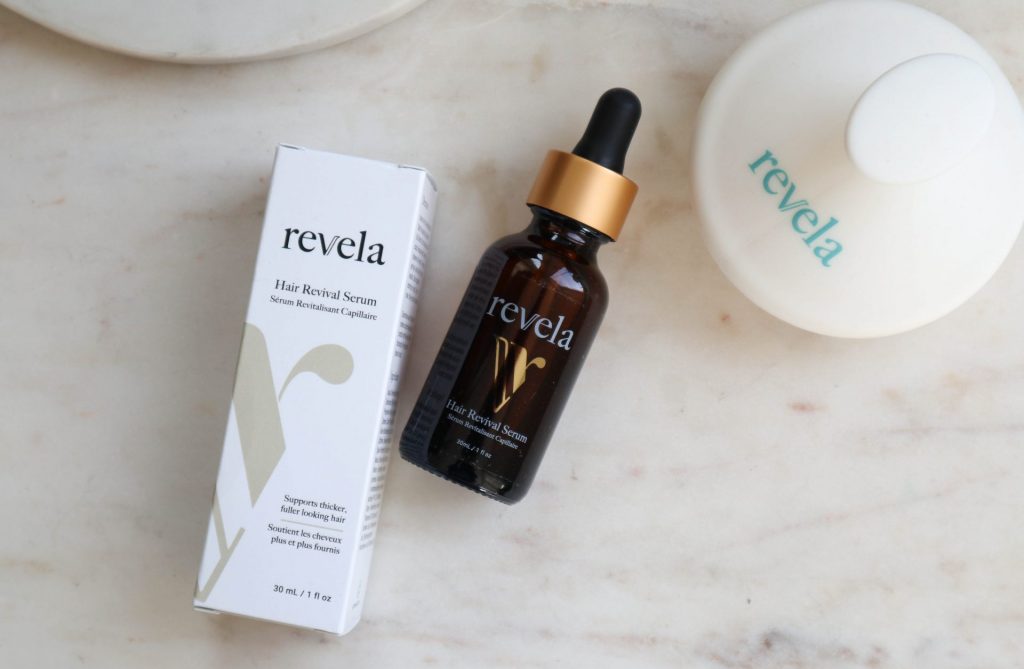 Use code PREET10 to get 10% off your purchase
Revela Hair Revival Serum
The hair serum is a 'breakthrough in hair loss according to the brand. Its aim is to prevent hair thinning and fallout and to help encourage the growth of new hair. It features 'ProCelinyl' technology, which encourages dormant hair follicles to 'wake up' and urges stronger, fuller new growth.

The thing I like most about this serum is that it's a lightweight formula. It doesn't contain any oil, so it never leaves hair looking or feeling greasy. It's also a formula that's suitable for everyone – male, female, and those suffering from stress-related hair loss, vitamin deficiency hair loss and hormonal hair loss. And whether your hair is chemically-treated, keratin-treated or coloured, it still works just as effectively. There are also no toxic ingredients or horrible side effects whatsoever. And with a promise to deliver unbeatable results within 6-8 weeks, for me, trying it was a no-brainer.

This product is designed to be used daily. This may sound a bit excessive, but when I had a look at the process behind the science of this product, I understood why. In the first 6-8 weeks, the product works to 'reawaken'. This means that the hair follicles are being actively rebooted, and the foundation is being laid for healthy new hair growth. At the 8-week mark, the natural density of the new healthy hair that has grown through is still being supported by the daily application of the serum. Once the hair is looking how you want it to, it's still recommended to use a bottle at least once every 2-3 months, so that hair can remain in tip-top condition.

How to use Revela Hair Revival Serum
As previously mentioned, this product should be used once daily. I use it on dry hair, and to start with, I apply a dropper-full of the product along my hairline. I then massage it well into my scalp with the Revela scalp massager. The massager further encourages circulation in the scalp to stimulate hair growth.

It is not recommended to rinse out this product. So I just apply it at night and sleep with it in my hair. This means that if I want to wash my hair in the morning, the product has still been left to do its job for long enough overnight.

So far, I have used this product for 5 weeks. I have seen a HUGE difference already, so I'll definitely be continuing using it. My hair looks thicker, less sparse and just healthier in general – I'm a total hair serum convert.
Where To Buy It?
Revela Hair Revival Serum is available at:
Use code PREET10 to get 10% off your purchase
Comment below if you have any questions or comments. Also, check my Bloglovin for the latest launches and products. Check out exclusive discount codes for my readers here.