I would like to tell you my thoughts and verdict before even I start talking about this eyeshadow quad, Chanel Les Ombres Multi-Effect Eyeshadow Quad in 278 Codes Subtils is one of my most favorite eyeshadow quads, whether it is the formula or the shades, I love everything about it.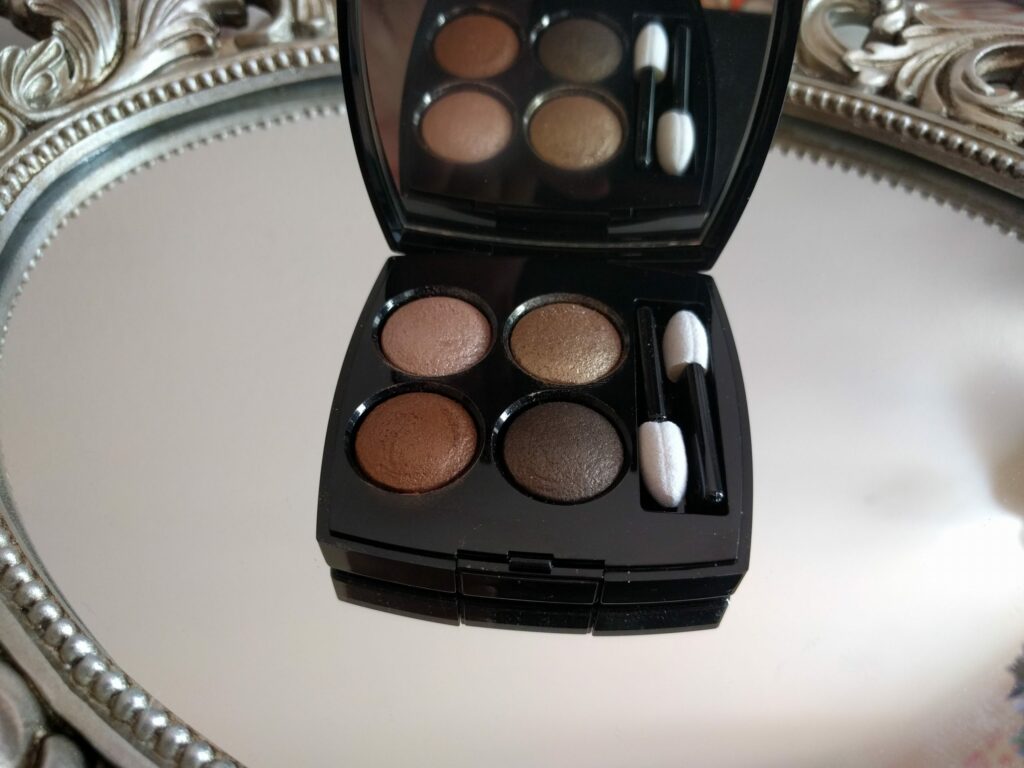 I was never into eyeshadows since last year that I started looking into them and then what caught my eye in the magazines and social media the most was the shiny or sometimes wet kind of look on the eyes. This was something I wanted to have on my eyelids and I was sure it would look natural as well as beautiful on my lids. This is when I bought this Chanel Les Ombres Multi-Effect Eyeshadow Quad in 278 Codes Subtils. All the shades in this quad seemed to look very neutral yet buildable and something that would suit most of the skin tones and eye colors.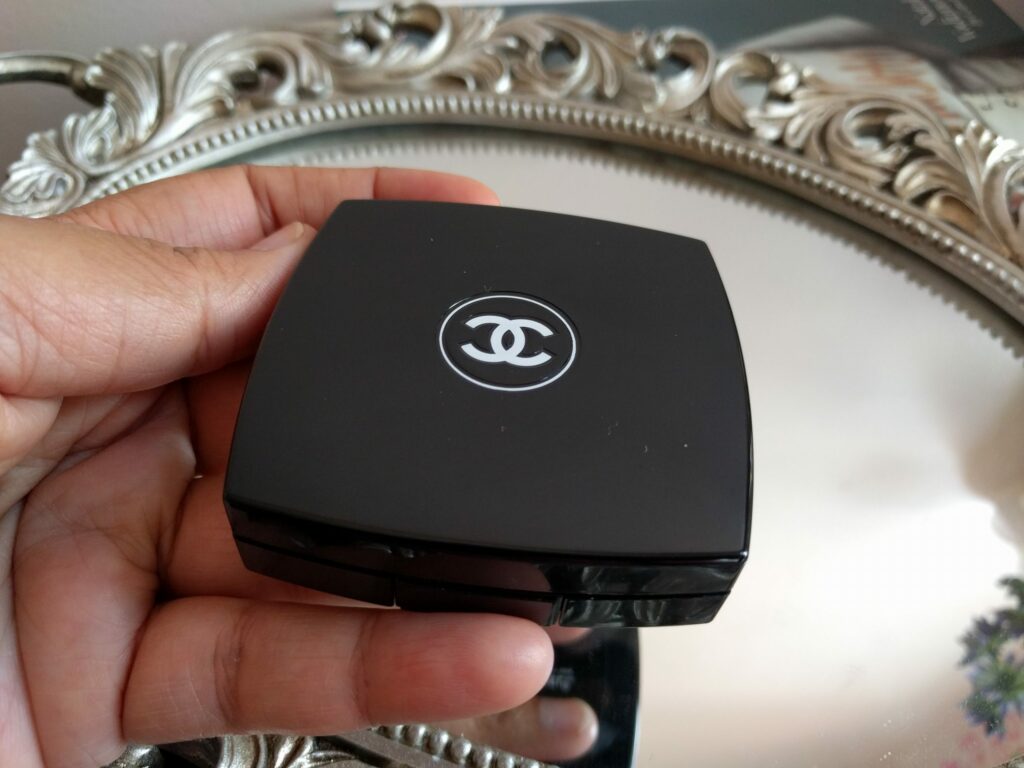 From the Chanel website," A palette of four eyeshadows that features the most advanced innovation to enhance creativity. It's optimized formula unites softness and easy application to express maximum color: consistent, luminous and even all day long. The shades come in a variety of effects: matte, satiny, iridescent or metallic.
A practical and portable black lacquered case with a large mirror. Result: The four eyeshadows blend endlessly to define natural, intense, sophisticated or smoky eyes."
I would also like to add the description about the formula from the official Chanel website, "A formula that enhances color and makeup effects.
An exceptional concentration of long-lasting pure pigments for a wider range of effects and intensities
A manufacturing process for easy application and immediately intense coverage
A jellifying system and a blend of polymers and spherical powders for: a soft, creamy, glide-on texture, shades that blend together perfectly, an even makeup result"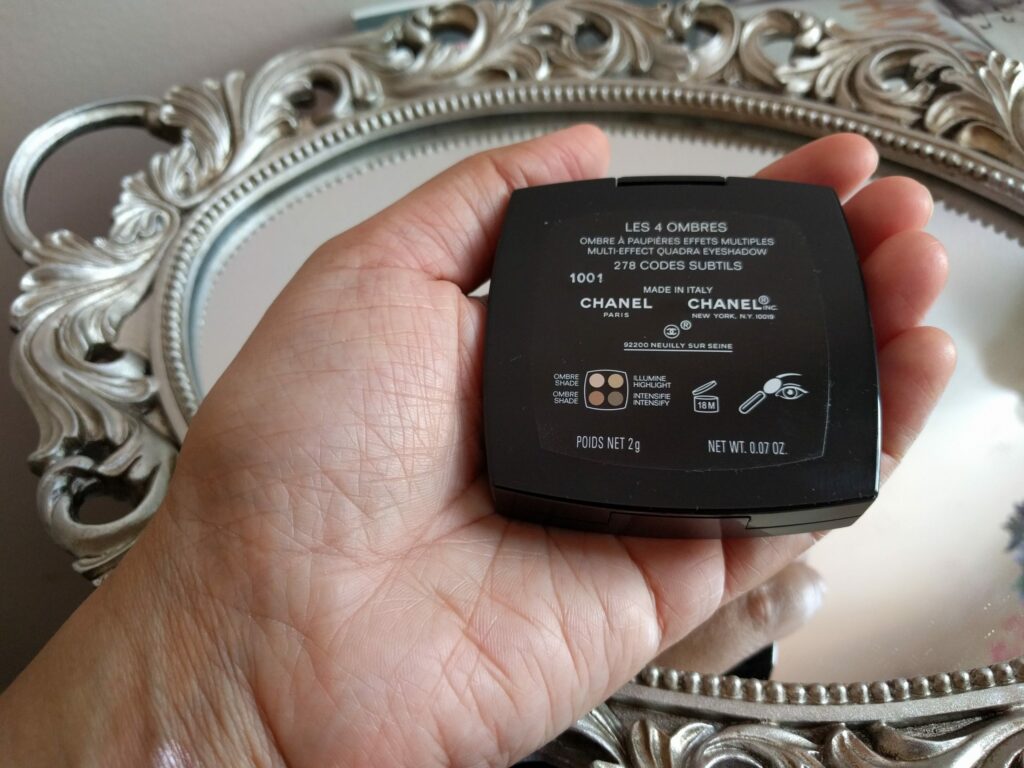 The packaging of this eyeshadow quad is in the classic black like other Chanel products, the four shades housed in a beautiful round circle shaped containers inside the case. Starting from the top left, the shades are medium dark peach, medium golden brown, medium brown, blackish brown with forest green hints. All the colors can be applied alone on the eyelids or together to create a beautiful eye look. All the shades are nicely pigmented and very blendable. They formula has a soft and finely milled texture which makes it really easy to apply.
They give a very nice glowy opaque kind effect on the eyes when used with a light hand, and this is what I was looking for. To make a more intense look, the are very easily buildable, blendable and stay on well for over 8 hours. Just to let you know that I have oily eyelids and these work well for over 6 hours on my eyes without an eyeshadow primer. I do not have a particular way I apply these shades but depends on my mood and my creativity level that day.

This is a really great quad with all shades beautifully done and all of them work very well together. The only thing I am disappointed about for this palette is that it is a limited addition. Being so versatile and suited for most of the skin tones and eye colors, it should be a permanent addition to the Chanel makeup collection.
This eyeshadow quad retails for CAD $68 excluding taxes.