I have been very much into eyeshadows lately and have been buying and testing a lot of them. From being naive of what and how of makeup to a starter at the moment, I am loving this texture and results I achieve when I use this eyeshadow. While buying, I was very confused amongst the shades available in Chanel Ombre Premiere Longwear Cream Eyeshadows and finally, after a lot of thoughts between 802 Undertone and 804 Scintillance, I bought this 804 Scintillance. This seemed to me that it will give me that dewy shiny eyelid that I am a fan of.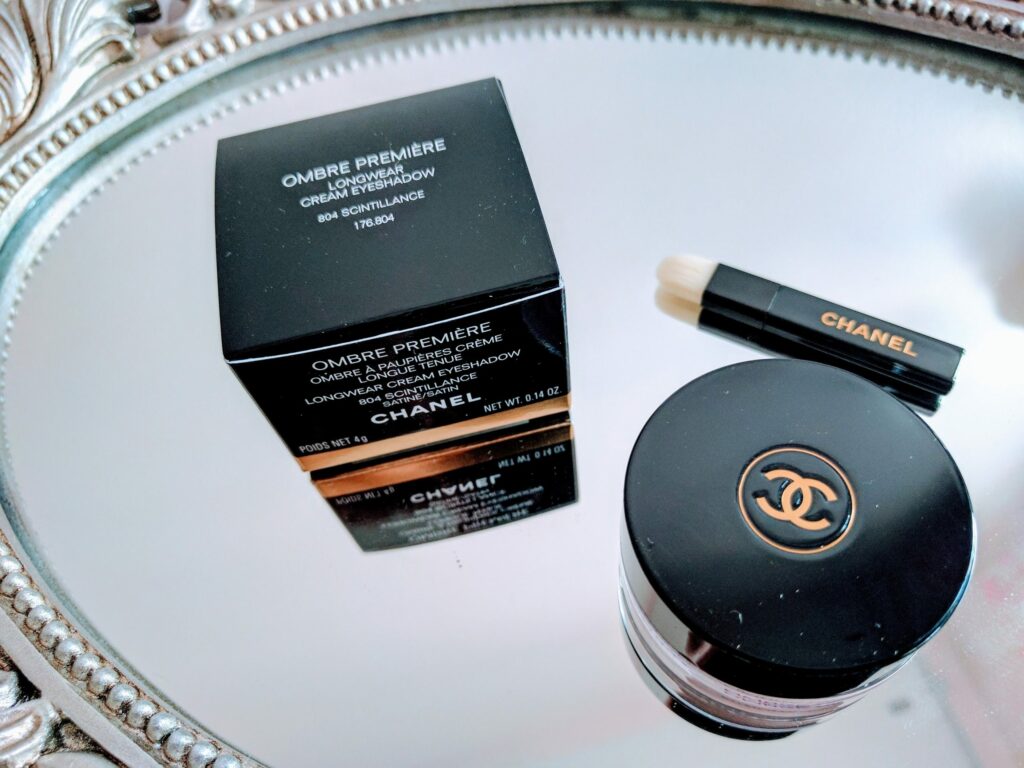 "A cream texture that becomes one with the eyelid and dresses up the eyes in vibrant, easy-to-blend color. A palette of shades offering a satiny, luminous and long-wearing result. The eyeshadow comes with a rounded brush applicator with very soft synthetic bristles, perfect for applying and blending color over the entire eyelid. A blend of oils adds softness to the texture for the easy, adjustable and melt-away application. A high concentration of ultra-pure pigments reveals intense and sophisticated shades. A formula rich in long-wearing ingredients for a dense and even result that lasts all day. Ophthalmologist tested, suitable for contact lens wearers." from beauty boutique Canada.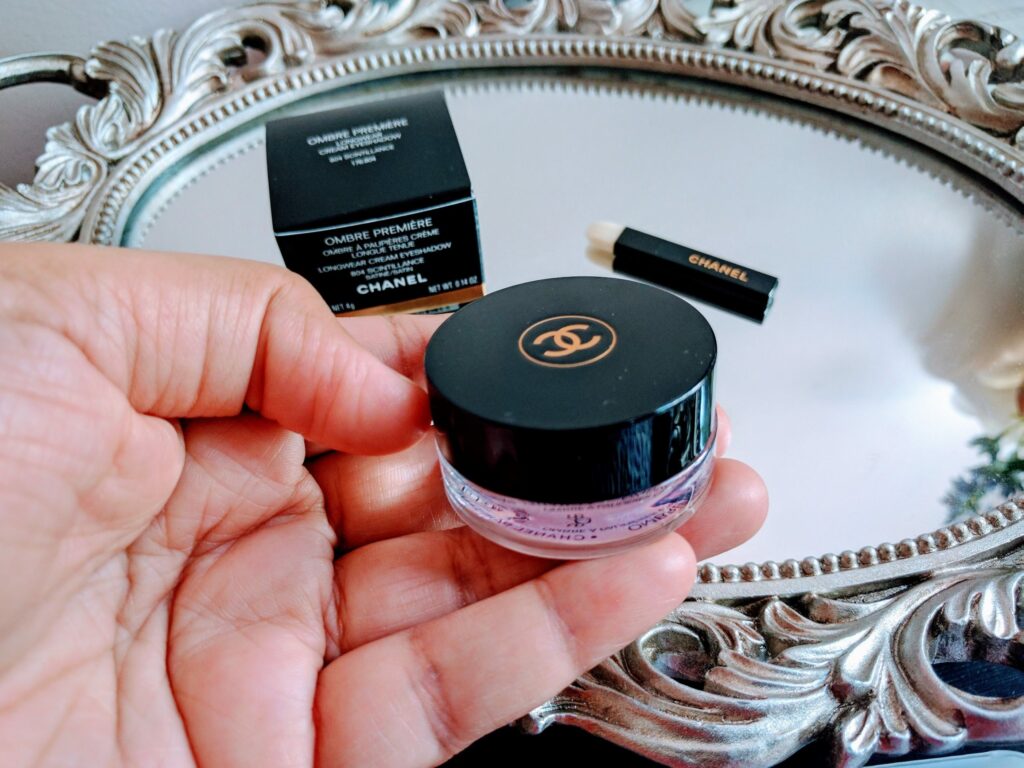 This eyeshadow is packaged in a small clear glass jar with black heavy plastic lid with Chanel logo. The little eye shadow jar does look very cute. The shade of this eyeshadow is peachy/pinky beige with a metallic sheen. The formula is very buildable. With one swipe, it gives a semi opaque coverage and with two or three swipes it gives full coverage. I do prefer one swipe over my lids and I get that semi-opaque sheen which looks natural as well as very pretty on the eyes.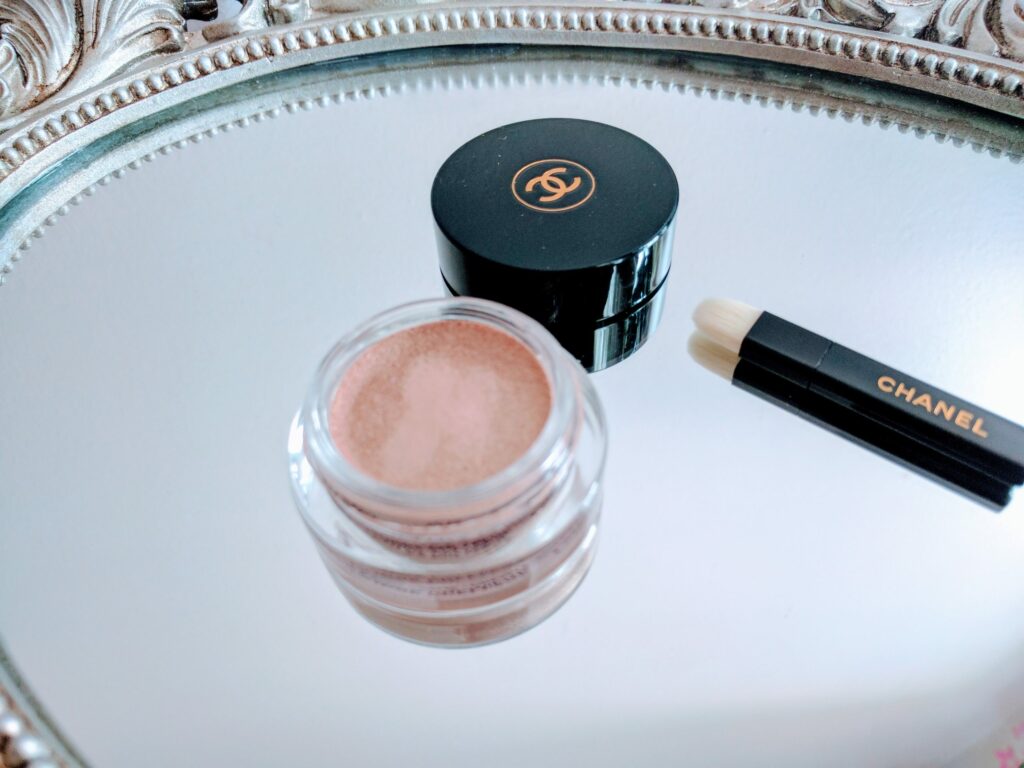 The formula is very soft and blendable. I did not notice any creasing on my eye sockets and this stayed on really well for over 11 hours. It may have stayed longer but I normally remove my makeup in few hours after I am back from work. This eye shadow can be used either with an eye shadow brush or with a finger tip, I use it both ways and it works well.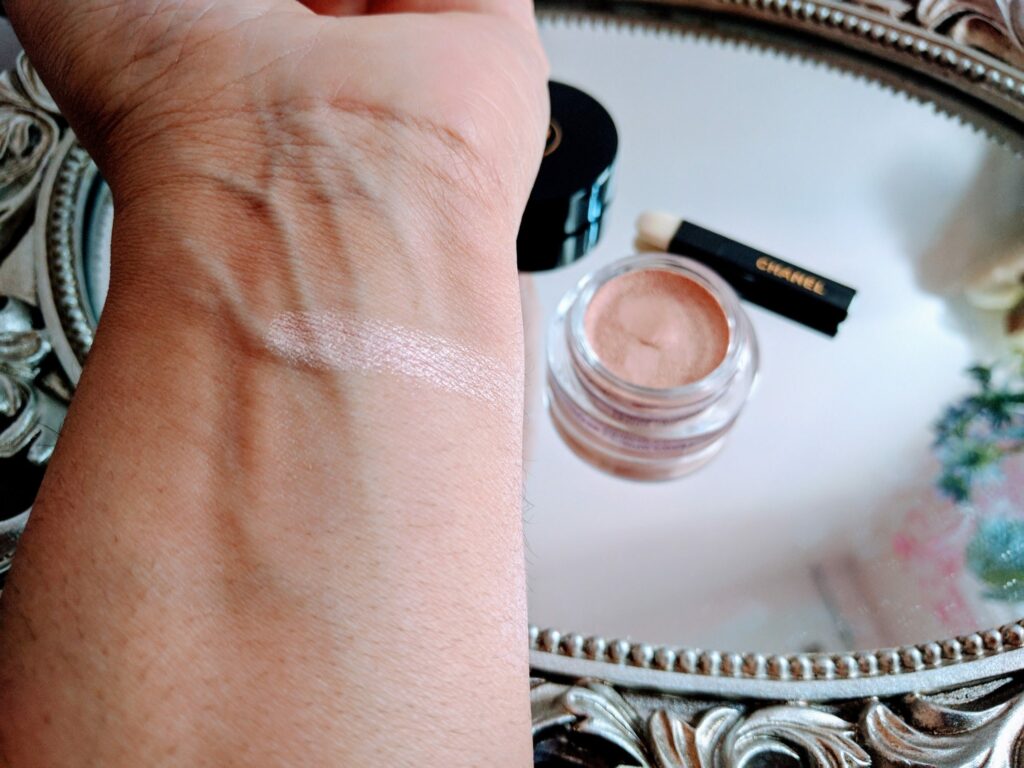 I am really in love with the formula and the sheen it provides, I am definitely going to look into more shades in this formula. This retails for CAD $40 excluding taxes.
Do you like dewy shiny eyes? What is your favorite single eyeshadow?
Buy here: