Dior Lip Sugar Scrub is described as an exfoliating and nourishing stick with grains of sugar that melt away, for incredibly soft and naturally rosy lips. I have dry or I should say dehydrated lips that flake frequently. I love lip products that are hydrating for my lips and do not cause flaking, whether it is a lipstick, lip gloss, lip tint. I have used few lip scrubs before like the ones from Sara Happ and Fresh which both I still like. I have the Dior Addict Lip Glow that I bought a few months back and use it consistently for hydrating my lips with an extra benefit of nice tint. I purchased a backup of it a few weeks back and then I got this lip scrub along with lip tattoos to try and review. I am a fan of Dior Products and let me tell you, this is a new favorite lip scrub. I have used it few times before writing this review and I am happy with the results. This does give a natural rosy tint to the lips and makes my lips more comfortable without drying. Whether it is your face or your lips or even a painting(speaking from my artist side, yes I love painting), you need a perfect base to start with, and for lips, this is indeed one of the best I have tried.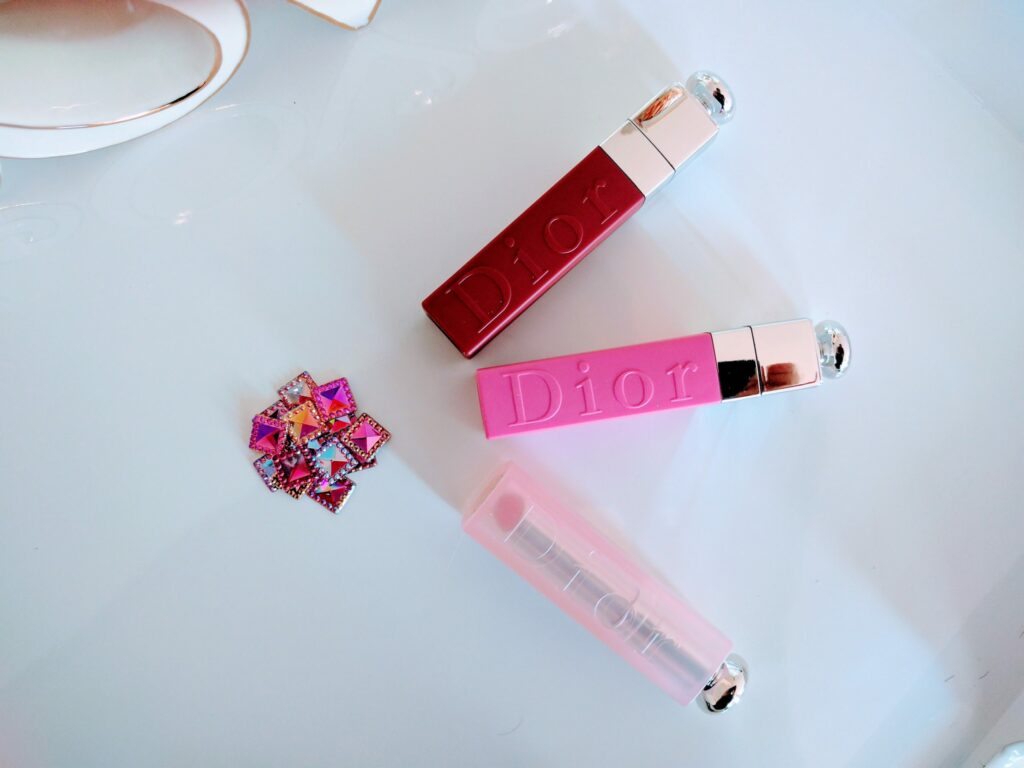 This lip scrub can be applied alone or as a first step before applying the lipstick. I apply this lip scrub generously from the stick and rub the grainy texture between my lips to rehydrate and nourish the dry skin of my lips. It has a very sweet addictive scent which does have the qualities and benefits of both a lip balm and a lip scrub. I like the natural rosy color it gives to my lips. The packaging of this lip scrub is almost the same as the Dior Addict Lip Glow which is very beautiful, the product is housed in a silver tube and the plastic cover is light pink and closes with a click sound. I like the luxurious feel and look of this lip scrub. It retails for CAD $41 excluding taxes.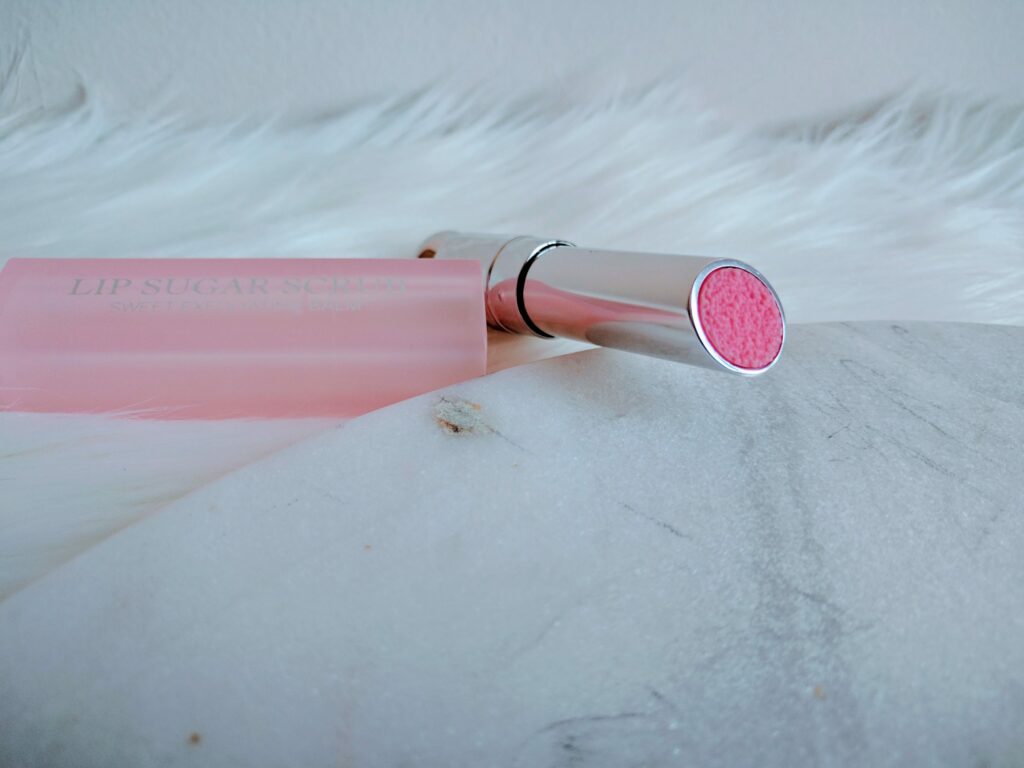 Dior Addict Lip Tattoo is the first long wear lip tint by Dior which is described to have a comfortable formula which is weightless and does not transfer. The color of this lip tattoo fuses to the lips like a tattoo once you apply it on the lips. The packaging of this lip tatoo is very cute and the product side of the packaging is the same color as the product inside and the applicator side is of silver color. The foam applicator included in this product is really nice and comfortable to use.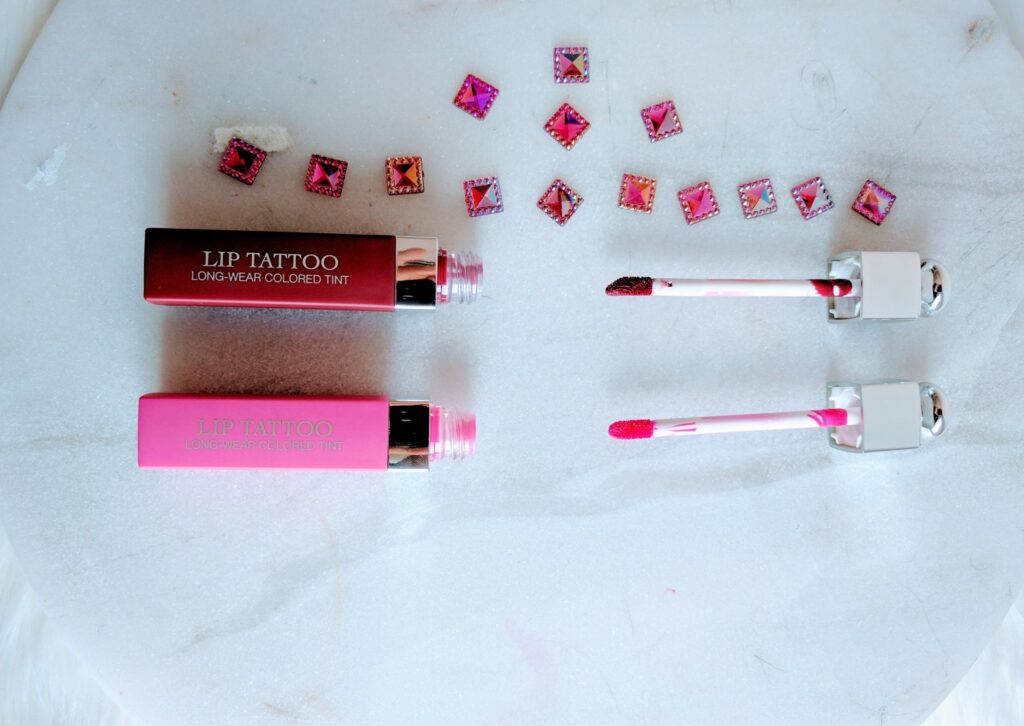 I was sent the shades Natural Pink – 881 and Natural Berry – 771 and have been using them almost daily since last week. So here are my bits on it. I applied them straight with the foam applicator and it is easy to apply. It looks shiny when it is wet and then it just fuses with the lips, I mean you are not able to tell if you applied anything to your lips or it is your natural lip color. For me, both Natural Berry and Natural Pink worked well. With Natural Pink, it gave me a pretty pink tint, as I mentioned no one could say I applied something on the lips, just beautiful rosy pink lips. I am a fan of Berry shades and I believe they suit my medium tan skin tone much better, so this Natural Berry looked great on me, the tint looked natural and fused well with my lips.

With trying and testing, I am now more into the makeup that enhances my features and does not make me something else. These both tints are nice and the staying power is really good for around 5-6 hours on me and I do eat and drink regularly with them on. And one more thing, they do taste sweet, yes I did taste them. And I think otherwise the staying power is really well. These lip tattoos retail for CAD $36 excluding taxes.  These lip tattoos are created in a total of six shades by Peter Phillips which range from beige to raspberry, to flatter and enhance any lip color.

The Dior Addict Sugar Scrub and Dior Lip Tattoo are available at all Dior Retailers and related .com sites.
Do you know about this new trend of lip tattoos? Have you tried any lip tattoos yet?