I am reviewing this very beautiful Healthy Glow Powder from Givenchy in a special floral edition which I bought last week to start off my birthday month. Nicolas Degennes, the creative director of Givenchy, was inspired for the spring collection this year by the delicate flowers called gypsophila, or baby's breath. These are one of the most beautiful, sweet and delicate flowers which look very beautiful in the interiors as well as exteriors.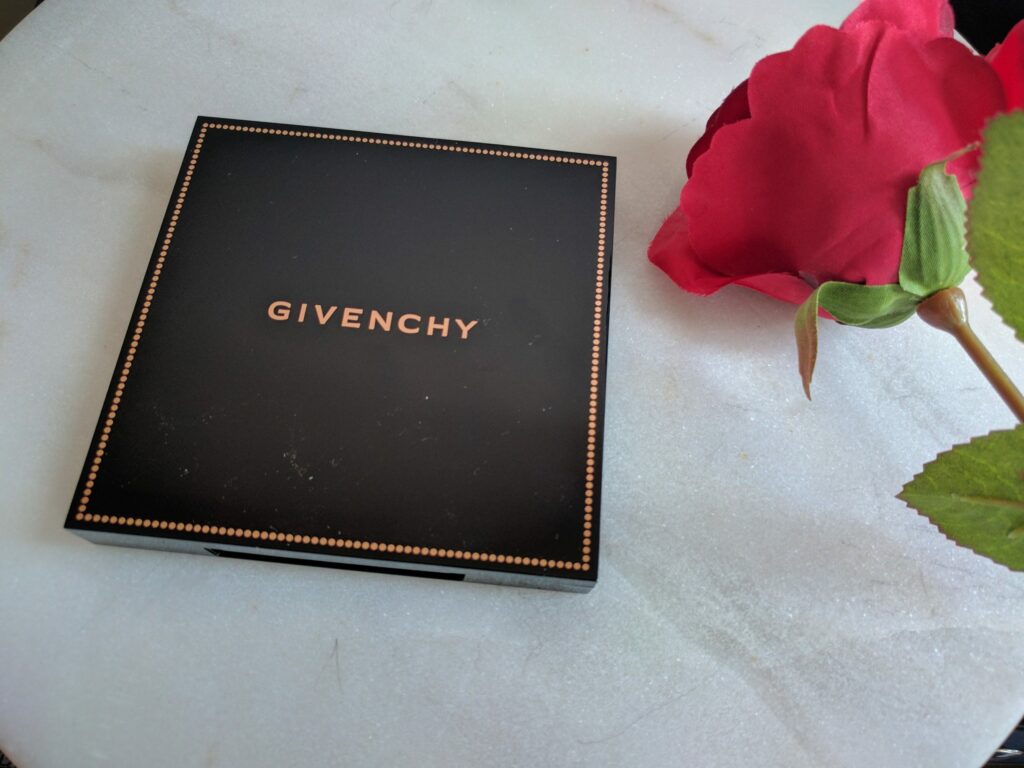 Givenchy spring collection 2017 is called Gypsophila Les Saisons and as with every luxury makeup collection, there is one absolute must-have product. The showpiece of this year's Healthy Glow Powder in the special limited edition Healthy Glow & Body Bronzing Powder floral. Givenchy describes this powder as a weightless bronzer that creates a powdery veil on your skin, which gives you the feeling of an infinite kiss of the sun. The packaging has, therefore, the terms "long lasting radiance 'and' totally weightless".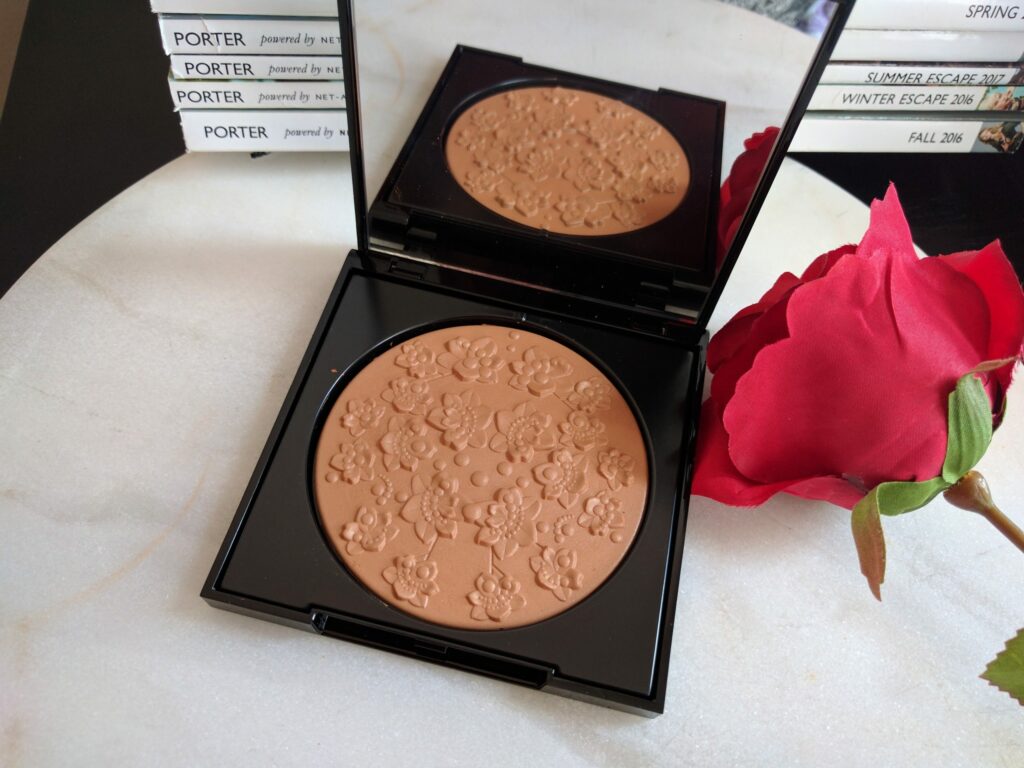 Sephora describes this powder to impart a sun-kissed complexion with Healthy Glow & Body Bronzing Powder. Encased in an oversized compact with a mirror, this talc-free powder lets your skin show off in its best light year round—while always looking fresh and radiant. Formulated with innovative technology, Givenchy reinvents the nude makeup look and healthy-looking glow, thanks to a formula that provides color without texture.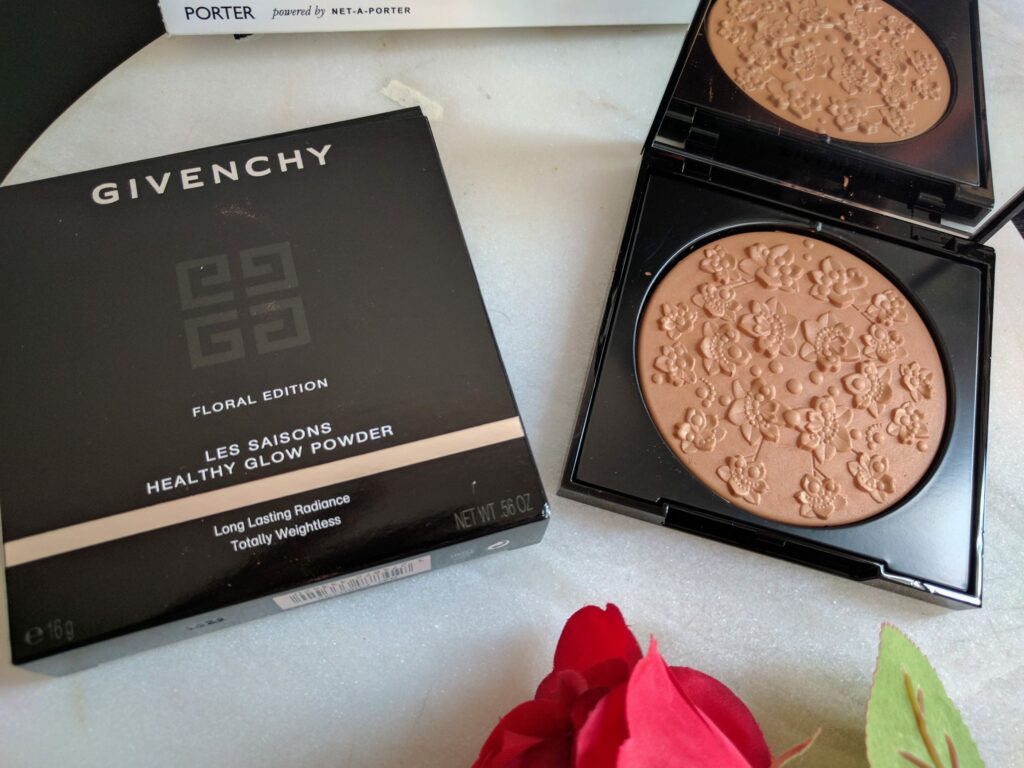 I will talk about the packaging first, which is really drool worthy. This has a black, shiny, big square box made of quality heavy plastic. The top of the box contains a rose gold dotted edge and the Givenchy logo. I find this box alone worth the price ( maybe that's too much, hehe).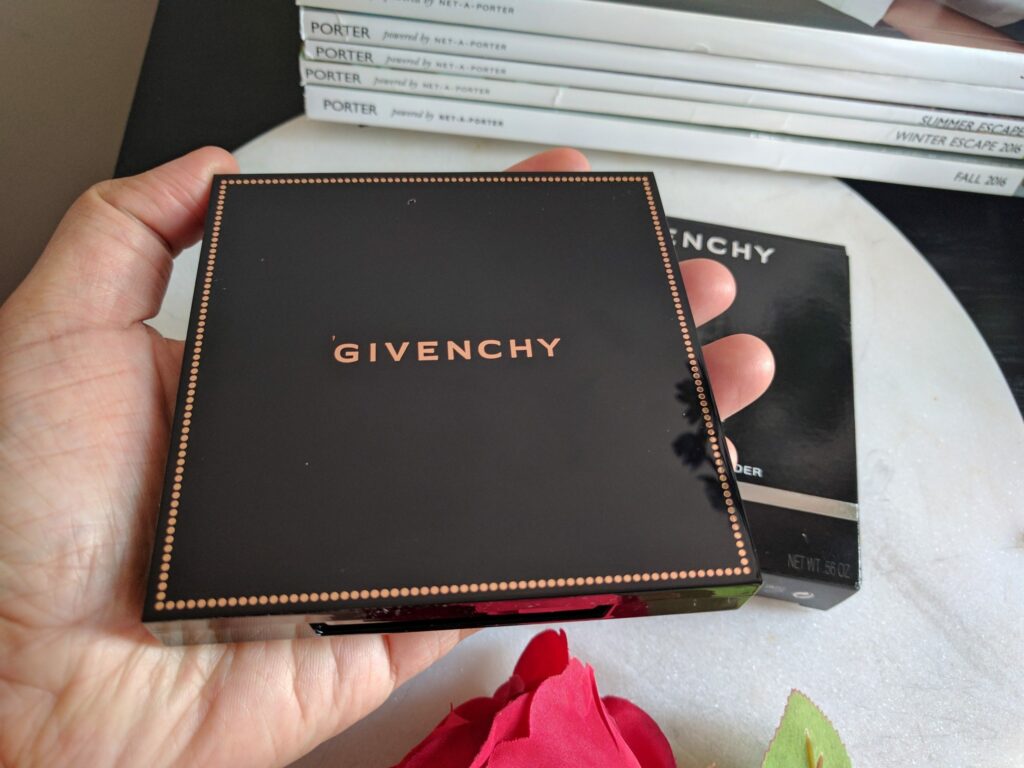 This packaging has a fairly large square mirror where I can see my face. And on the opposite side is the bronzer which is SO BEAUTIFUL! It includes a 3D floral pattern of delicate flowers so that the powder gets a magical aura. I would never want to use it, would you? In sunlight, I see a very fine gloss and tiny golden shimmers on the bronzer. The color is called no 2, Douce Saison and is the only color in this collection. Normally, I prefer bronzers which are a bit darker than my normal shade, but this color is good and buildable into a color that is perfect for my skin tone.

The undertone of this bronzer is a bit peachy-soft brown, giving a very natural, sun-kissed color and a beautiful, subtle sheen to the skin.The texture of this powder is very soft and one can feel how finely ground it is. In facts, it is not even a real powder, because the formula contains a new technology in which the formula is 'baked' gel that transforms into a powder when you apply it on the skin. This technology has been used by various high-end brands these days in most the products like eyeshadows, powders. This composition and technology make this bronzer very easily blendable and buildable providing the skin with the most natural bronze and glow.
I am really very pleased with this Healthy Glow Powder from Givenchy. It does look very luxurious and so does the quality of this bronzer, you should certainly have a look at this.
This limited edition bronzer is available at Sephora and retails for CAD $78 excluding taxes.
Do you use a bronzer? Which is your favorite bronzer?