Guerlain is a brand I trust when it comes to bronzing powders which are a cult favorite too. I use the bronzing powder to create a shadow to define my jawline, under my chin, and also to shape my nose. My skin tone is medium tan with yellow undertones. I am very careful when choosing a bronzer. I do not wantit to look unnatural, ashy, or orange on my yellow undertones. I recently purchased Guerlain Terracotta Chic Tropic Sun Light Duo Bronzing Powder that I am loving.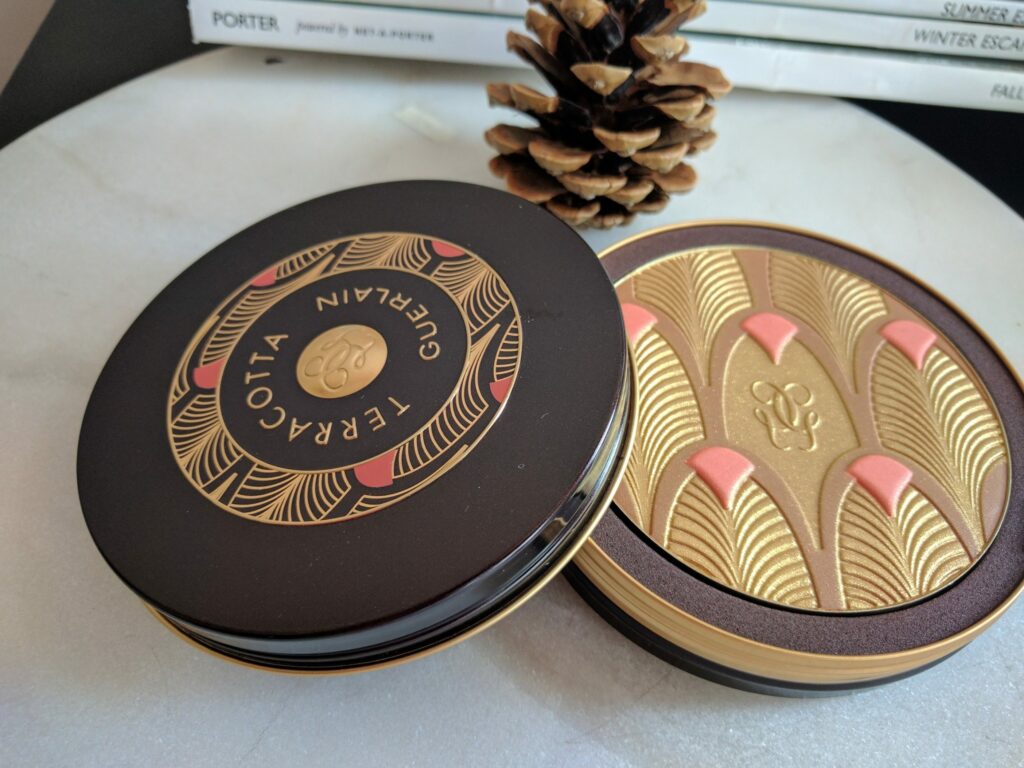 From the Guerlain website, "Guerlain Terracotta powder, the leading bronzing powder, is available in an XXL limited edition this summer, Terracotta Chic Tropic, which blends warmth and color to perfectly enhance your natural sun-kissed glow. Irresistible on the face and décolleté, the Terracotta dual-colour powder is the most desirable collectible this summer: a combination of the best-selling Terracotta shade 03, which naturally warms all complexions, and a hint of coral to highlight your sun-kissed glow. The colors can be blended together in the blink of an eye to even out the tan or warm the complexion. On the skin, the result is impeccable and remains so, all day long. This collector precious case is reusable when the powder is finished.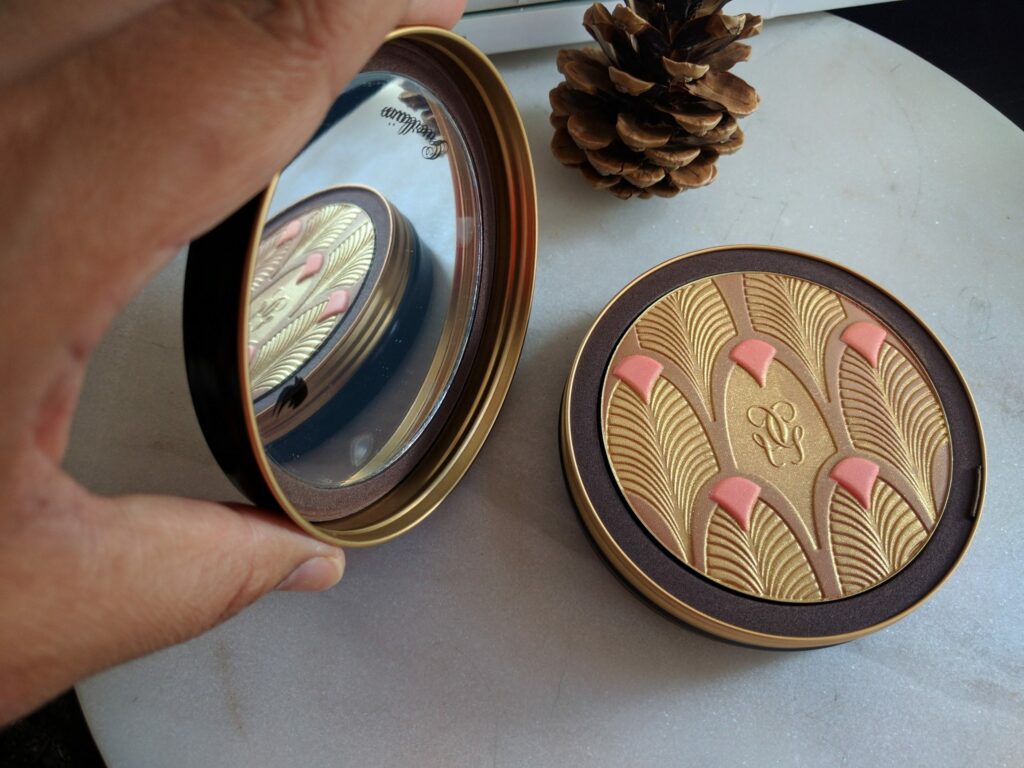 The fragrance of the Terracotta powder takes you on a getaway. The ylang-ylang and orange blossom notes create the sensation of a cocoon. They are blended into tonka bean and vanilla notes with sunny facets that embody the essence of Terracotta. A note of white musk adds a velvet touch to this addictive fragrance.
The senses are awakened, transported to a faraway land."

From my past experience and thoughts, I have trusted Guerlain Bronzers the most. I know you are not going to finish a single bronzer very easily unless you use it every day and use it a lot. For me, my love for beautiful products that work and to use a product so that I can write about it makes me buy these limited edition packaging products with regular and sometimes limited edition products inside. I bought this limited edition Guerlain Terracotta Chic Tropic Sun Light Duo Bronzing Powder which came at the perfect time when summer is here in Canada. The first thing that caught my eye is the beautiful pattern and the packaging of this bronzer.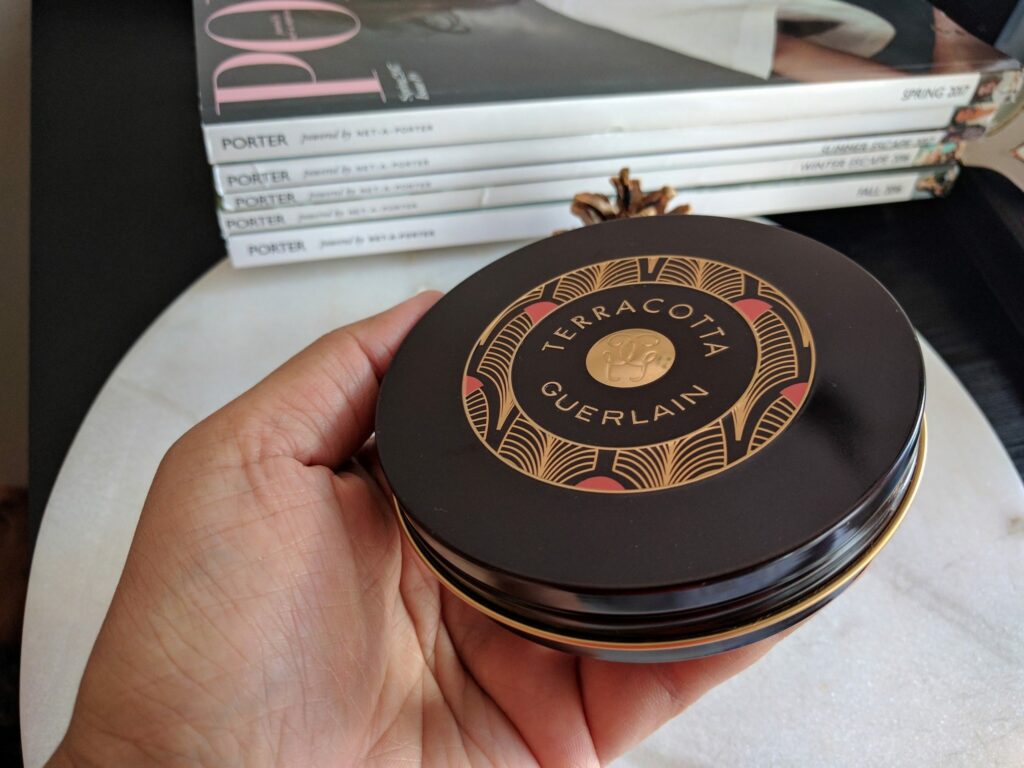 The beautiful pattern on this bronzer has some golden sheen to it which fades away after few uses and then the original bronzer color comes into work. The golden sheen looks nice on the skin and is not overly shiny or glittery but looks natural and would be best to use during a beach visit or for a party. Once that sheen is used up, the regular bronzer product comes into play which I already have and love.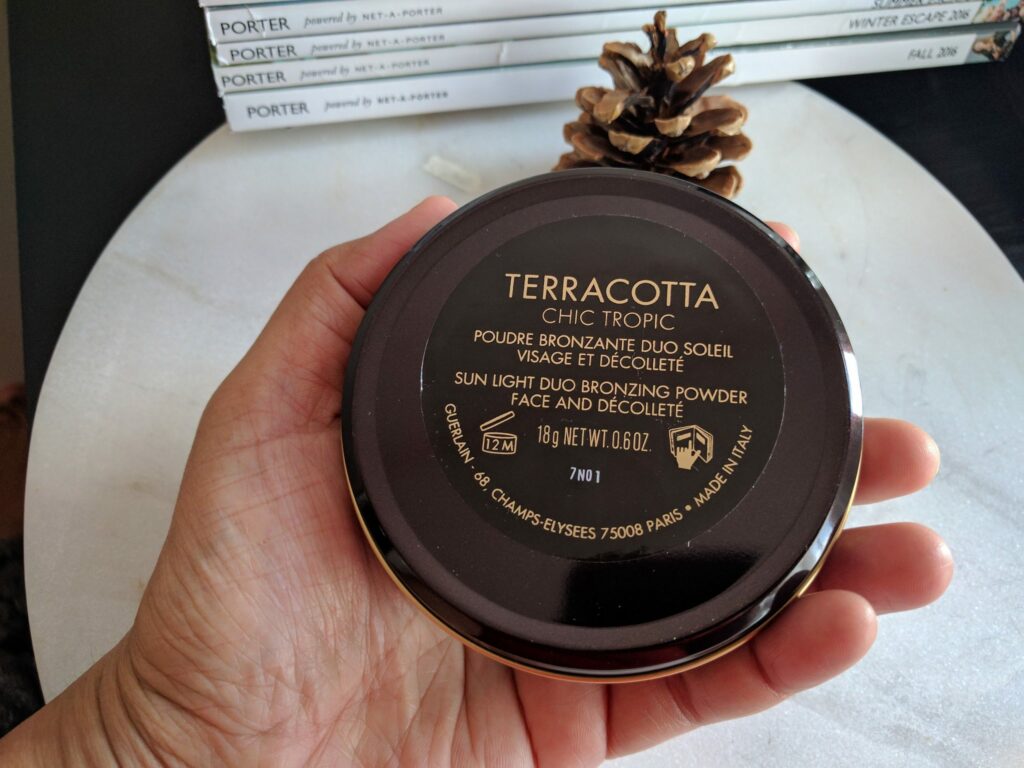 The packaging of Guerlain Terracotta Chic Tropic Sun Light Duo Bronzing Powder is so beautiful and luxe. The size of the pan is very nice and has a few cm of filling on the sides. The cover of this bronzer has a nice size mirror and is very handy on the go. I have swatched the shades in this bronzer separately. When I combine both brown and peachy orange shades, it gives a nice natural finish on the skin, I do have to use it twice or thrice on the skin to show up nicely. I am okay with doing that as long as I get the most natural results.

I have Shade 3 in regular Guerlain bronzer and this is the same shade in this limited edition product. The powder feels very soft and blends well. The staying power is nice and for me, it stays on well for over 7 hours. As mentioned above, it does have a strong fragrance and I love it, every time I open this bronzer, it makes my mood so happy. I use this bronzer with my highlighter brush, not the fan brush, but something pointy and dense so that I can have a nice natural shadow on my areas that i want to bronze. For shaping my nose, i use a small brush like the MAC 217.
Where To Buy Guerlain Beauty and Fragrances?
*Affiliate links below, these help Preet with running costs of the blog
Comment below if you have any questions or comments. Also, check my Instagram for the latest launches and products. My Facebook page is here.