Nars Orgasm on the Beach Collection has launched just in time as we transition from spring to summer. The collection is inspired by Orgasm, a coveted peachy-pink shade that stimulates every sense under the sun. The collection features am Oversized Orgasm Blush, Orgasm on the Beach Cheek Palette, and Monoï Body Glow. In this feature, I am focussing on the Blush and the Cheek Palette.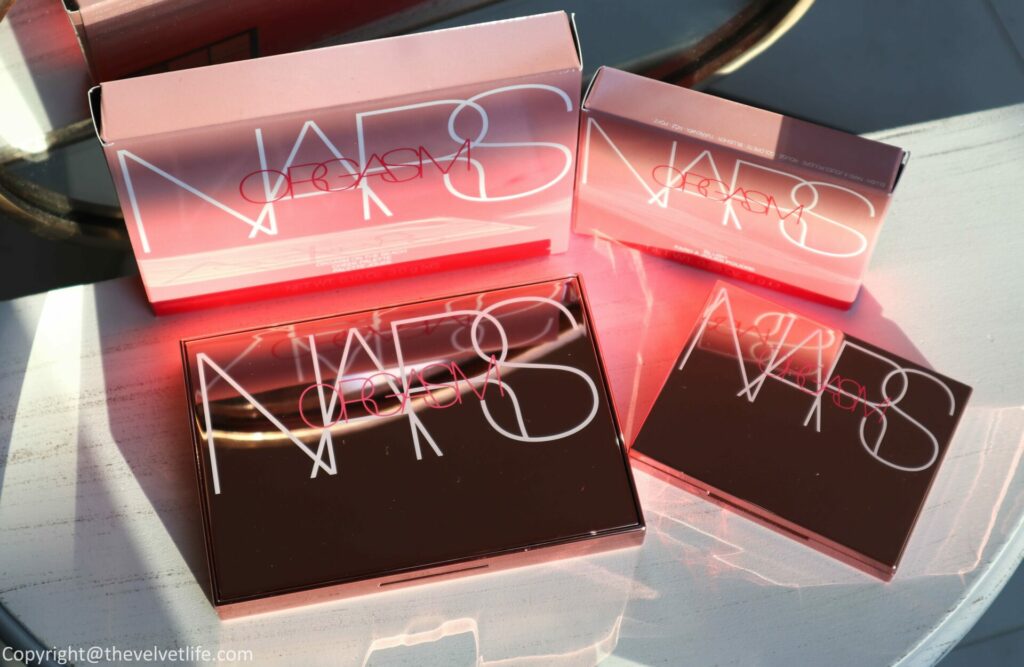 Oversized Orgasm Blush
The cult-favorite blush shade from Nars, Orgasm, is launched in limited edition pink packaging in Nars Orgasm on the Beach Collection. The blush comes in an oversized compact with a generous product inside. Like with the other blush formulas from Nars, it is a smooth and lightweight formula. It is very pigmented and blends easily into the skin.

It looks beautiful on the skin without looking over or glittery. This shade is a nice blend of peachy pink blush with golden shimmer. The golden shimmer looks really pretty on the skin, does not look glittery or heavy but very fine. This shade is one of those that suit most of the skin tones.
Orgasm on the Beach Cheek Palette
Orgasm on the Beach Cheek Palette is a limited edition palette from Nars Orgasm on the Beach Collection with six beautiful shades. It features sunkissed coral and golden shades, all inspired by the Orgasm shade that I mentioned above. The formula is super smooth and lightweight. It is very pigmented and feels very buttery when applied. There is no fallout. It is a pleasure to apply. It blends beautifully and looks very natural.

I am very impressed with the formula and very happy to have it in 6 beautiful shades.
Turtle Bay – shimmering peach champagne
Naples – metallic rose gold
Mandalay – satin caramel bronze
Montezuma – shimmering golden peach
Orgasm – peachy pink with golden shimmer
Zuma – satin rouge

All the shades are very versatile, they work well on the eyes as well as cheeks also. Above all, the shades will suit most of the skin tones. On my medium skin tone, all the shades suit and look really beautiful. The formula is easily buildable, so I can control the intensity based on my mood.


Overall, amazing launches from Nars for the summer this year. I have built quite a collection of Nars palettes, they are my favorites. One of my favorites include from Nars Orgasm Collection and the palette was cream formula. It is one of the most smooth and lightweight creamy blush. Also, I still love the eye palettes from Nars Orgasm X Collection.
Where To Buy Nars Products?
Comment below if you have any questions or comments. Also, check my Bloglovin for the latest launches and products. Check out exclusive discount codes for my readers here.