Vichy is a well-known brand and has been around since last 80 years. They are the leaders when it comes to custom made regimes for women. Whether your skin is affected by hormonal imbalance, stress or any lifestyle influenced factors, Vichy has custom-tailored regimes which help you from the pain of looking and trying each and every product in the market but provide you everything within the custom tailored range for your skin type and concerns. Vichy has been into both skincare and makeup. The star ingredient used in all Vichy products is the mineral rich Thermal Spa water.

The Ideal Teint Makeup from Vichy is a beautiful combination of benefits of skincare in makeup.  If you follow me through my blog posts and Instagram, you might know that I have combination skin which is prone to congestion on my jawline and I am very careful while selecting or using a new product on my face. Moreover, I have always been a fan of the dewy finish, so I prefer to use a liquid foundation. I was sent these products for review purposes and I have been testing them since last two weeks.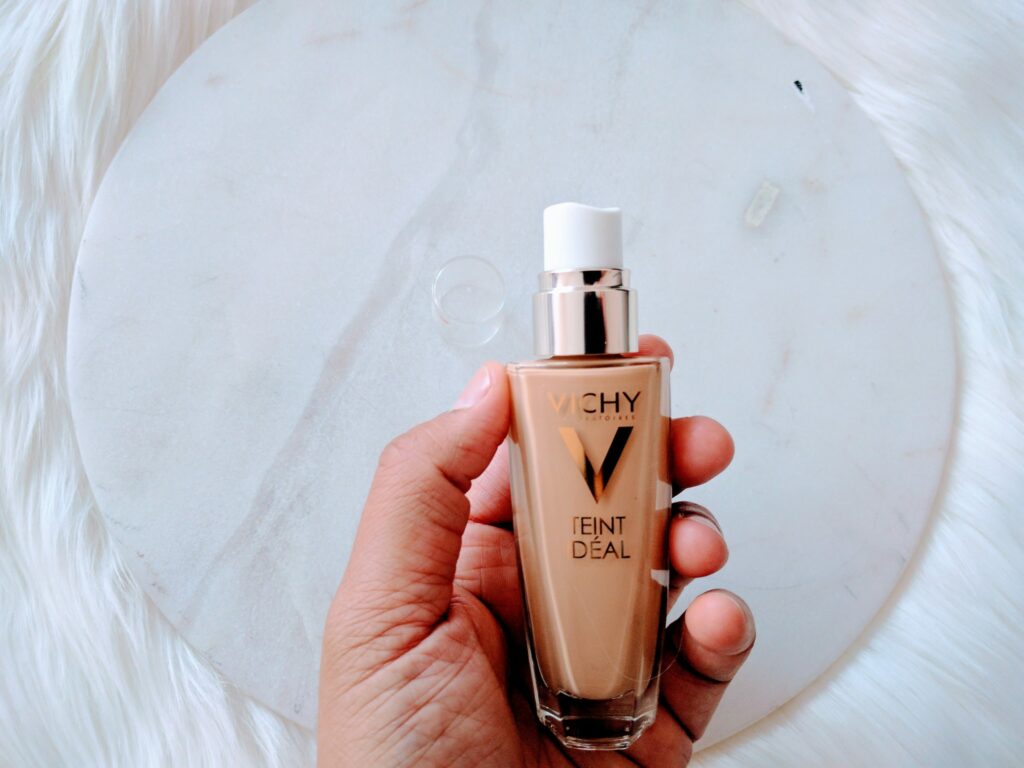 Teint Ideal Fluid Foundation is a medium coverage foundation and is buildable. This foundation is suitable for normal to combination skin types and was perfect for me as it is both liquid and is suitable for my combination skin. The foundation is housed in a glass jar, feels very sturdy and nice. I have applied this with a brush and with a wet beauty blender. With beauty blender, it does give a more natural finish. It does provide hydration which is a added benefit if you have dehydrated skin, which I sometimes have. Also, the finish of this foundation is luminous, I see my skin looks more radiant after using this. The staying power of this foundation is really nice, stays on for the full day, almost 9-10 hours on me. Just want to mention the main ingredients in this foundation include Vitamin E(Helps with radiance), Vitamin C(regenerates the skin), Mineral pigments (for natural coverage), Vichy Mineralizing Thermal Water (strengthens skin). The Liquid Light Technology is used while formulating this which helps to provide an immediate healthy glow to the skin when applied. I was sent Shade 45 – Honey which suits my medium tan complexion very well. It is available for a total of 5 shades ranging from Ivory, Sand, Rosy Sand, Honey, and Bronze. This foundation retails for CAD $38 excluding taxes.

Teint Ideal Bronzer is a bronzer for natural sunkissed glow. It is suitable for normal skin types and for my combination skin types, I did not notice anything different I particular in my skin while using this bronzer. This bronzer is available in only one shade and is called as suitable for all skin tones from light to dark (based on the testing Vichy done prior to releasing this product). This formula of this bronzer is very buildable and I have used it both as my setting powder with one swipe and build it up for a natural bronzing look, I want to emphasize here that it does look very natural on my medium tan skin tone, it does not give any orange hues once applied. The packaging is a sleek plastic case which also holds a little brush which is perfect for on-the-go and there is a mirror included in the case too. This bronzer also has mineral pigments which give that glow. It stays on well for the whole day, 6-7 hours on my skin. This retails for CAD $36 excluding taxes.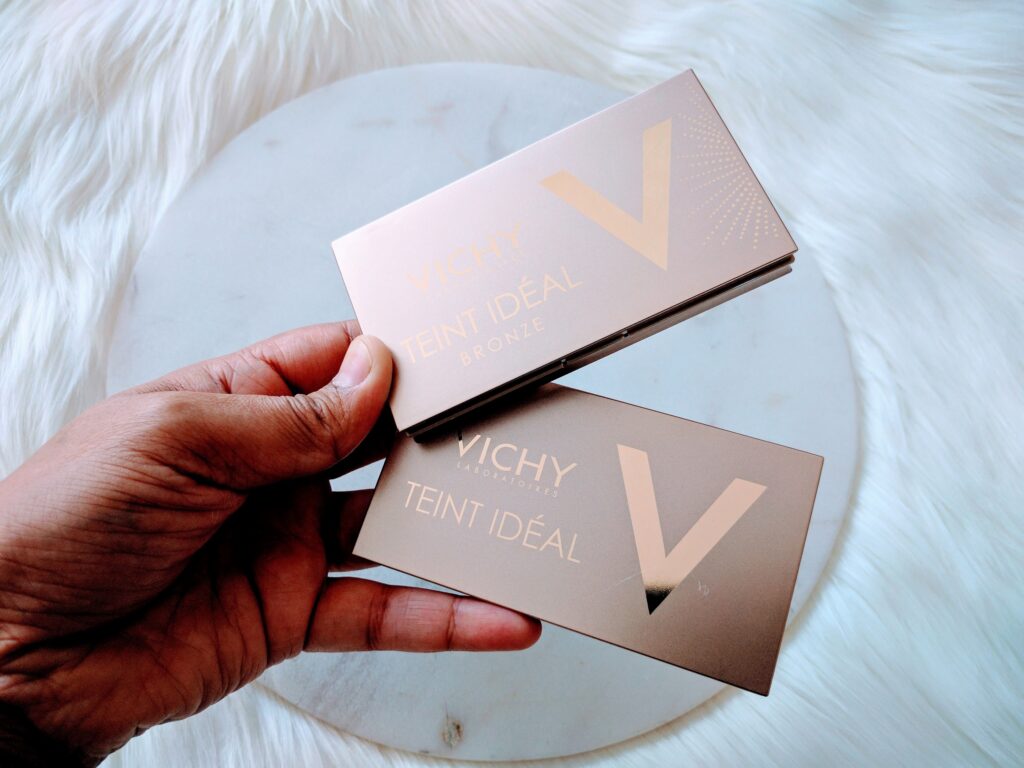 Teint Ideal Compact Powder is a lightweight velvety powder which is suitable for light to medium coverage. The finish is semi-matte but as I use this over my foundation with a light hand, I can still have the glow. This is suitable for all skin types. The product is packaged in the sleek compact same as the bronzer described above. Vichy claims this to improve skin quality through their clinical studies. It works very well as a setting powder or for touch-ups during the day. One of the ingredients in this powder is Perlite which helps absorb sebum to give a mattifying effect, so it is great for the touch-ups on the go. The mineral pigments and mother of pearl base helps provide radiance. This powder has a sponge instead of the brush as in the bronzer. The mirror is also housed in the compact case which is a good size mirror to work with. The sponge is very soft and works well to do the job. This powder retails for CAD $36 excluding taxes and is available in Light, Medi, m and Dark shades. I was sent the medium shade for your reference.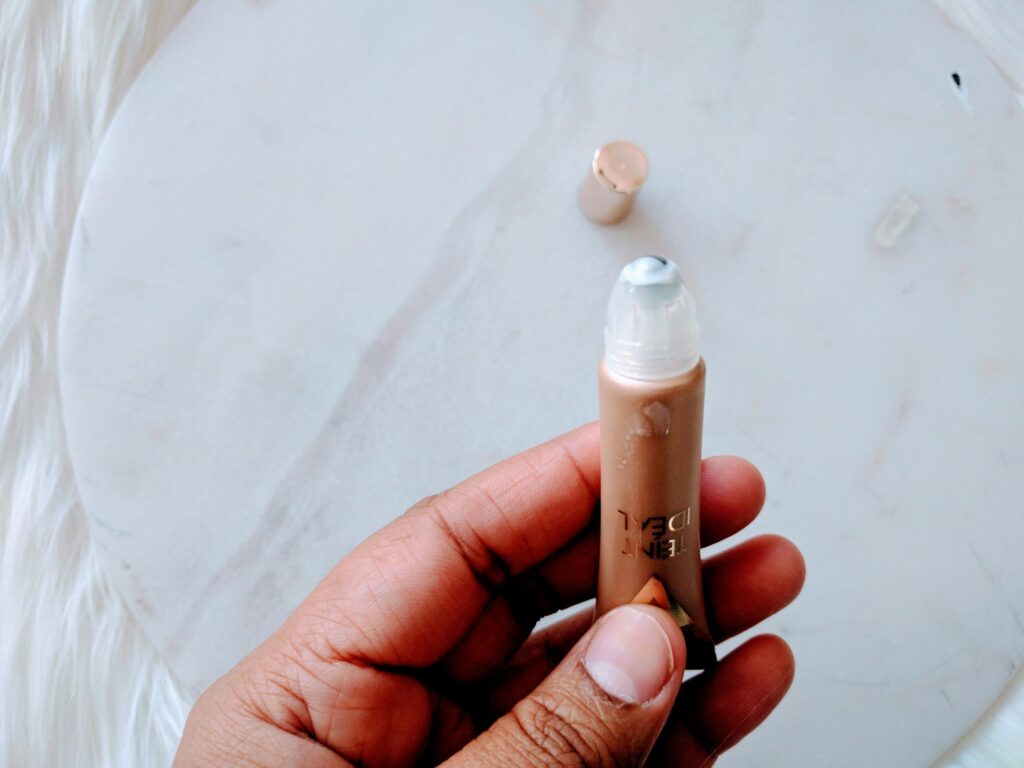 Teint Ideal Highlighter is a multi-purpose highlighter suitable for all skin types. The first thing that caught my eye is the packaging and the applicator of this highlighter. The product is packaged in a plastic tube with a roll-on applicator, isn't it cool? The product is a white colored very soft liquid that comes out of the roll-on applicator. From Vichy, " This highlighter acts like a beam of light which tosses a radiant shine over dull parts of the face." It uses the Liquid Light Technology which helps achieve that glow as soon as it is applied. I applied this roll straight onto my high points of the face where light naturally hits and it gave me a very natural glow. It is best to say that it enhances the radiance and freshens up the complexion.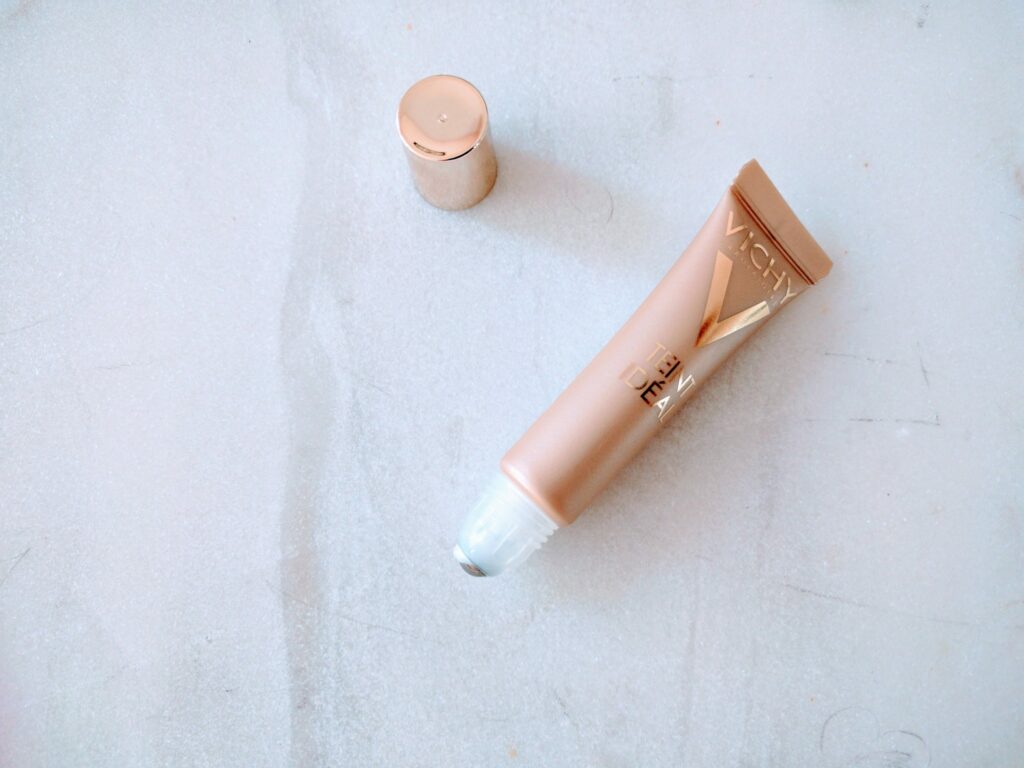 I have used it both as a finishing product over my makeup and even on the no makeup days. This works perfectly well for on-the-go and is very handy as it does not need a brush, just take out the tube and roll on, simple as that, right? This retails for CAD $27 excluding taxes.
Vichy skincare and makeup are available online at Vichy Canada website and on the Shoppers Drug Mart Locations.