Dior Diorskin Forever Perfect Makeup Everlasting Wear Pore Refining Effect with SPF 35 is the new foundation from Dior which gives a flawless complexion and gives a luminous matte finish. This new formula of the foundation is enriched with the Poreless Effect Skincare Essence ( the same as in the Dior Diorskin Forever Compact) which refines the skin's texture when used regularly. It is always nice to have both skin care and makeup in a single product. This foundation is available in wide variety of shades, to be precise 24 shades so that everyone can have their own based on their skin tone.

The formula of this foundation is a combination of two "wear-lock" polymers that applies on the skin in a stretchy veil as a second. The first polymer, Acrylic Polymer, sets the texture and pigments and the second polymer, hydro-formulated polymer adds flexibility to the makeup firm. The foundation sets into the skin with a very comfortable wear without any tight sensation. This foundation stays on well for 16 hours as per the assessment was done on a number of women. The Poreless Effect Skincare Essence in this foundation provides skin care benefits and helps rebalance the skin by refining its texture and softens the imperfections. There is Activ-MatTM Complex in this foundation which gets activated upon application to the skin and helps control the shine. There are mattifying and soft-focus powders in the formula which give a perfect complexion correction with no mask effect.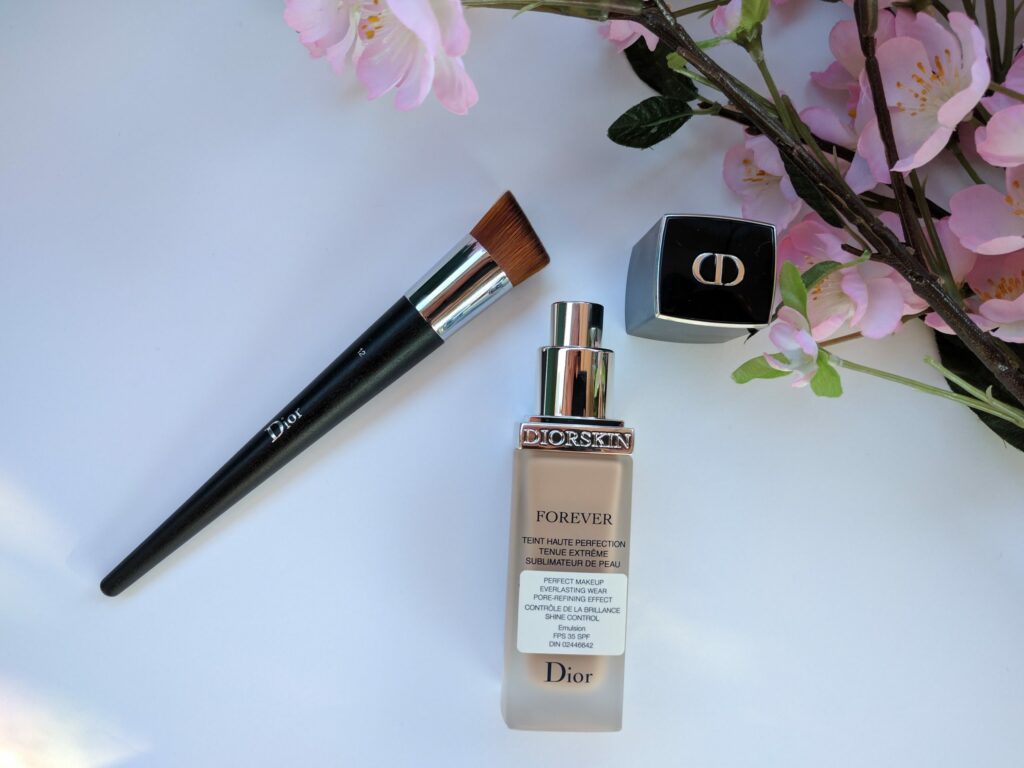 It is advised to be used with finger tips on a well-moisturized face with a light hand or It can be used with the Dior fluid foundation sponge applicator.
I was sent this foundation for review purpose and I have used it every day since last week. I was sent shades Beige Almond – 034 and Beige Desert – 035. I have a medium tan complexion with yellow undertones for your reference and the shade Beige Desert – 035 matches very closely to my skin tone. For me, the shade Beige Almond – 034 can be either mixed with Beige Desert – 035 or may be worn alone in winters, I have to see that when winter comes and my skin is back to its original tone.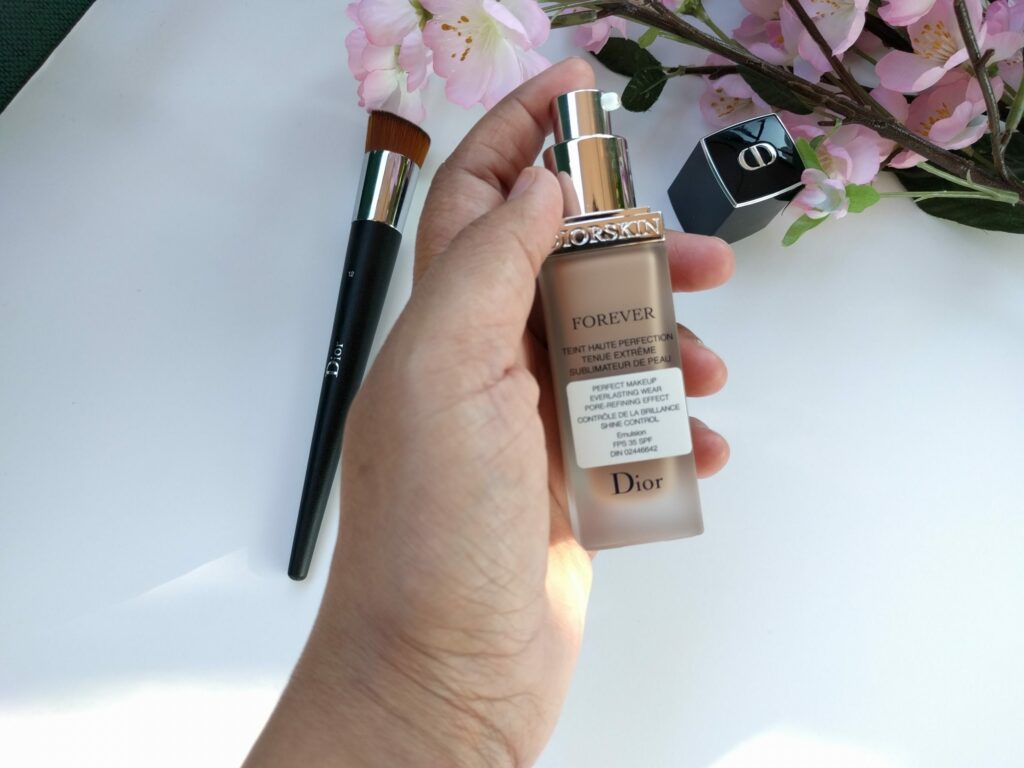 First of all, the packaging of this bottle is really classic, love the glass bottle, the pump and the cover of the foundation with CD symbol. The glass bottle is heavy and feels very luxurious. As you know, I prefer luminous dewy finish and so I tried this foundation both with and without a brush. I want to mention here that it dries very fast when applied on the skin. I applied this foundation on my well-moisturized face with my fingertips and loved the results, luminous matte flawless finish and no accentuation of lines or dryness. Also, I used this with my liquid foundation brush, I pumped out a little foundation at a time straight onto the brush and applied on my face, it did work well this way too. Just to remind you again, I applied very little at a time as I mentioned earlier that it dries very fast, don't forget.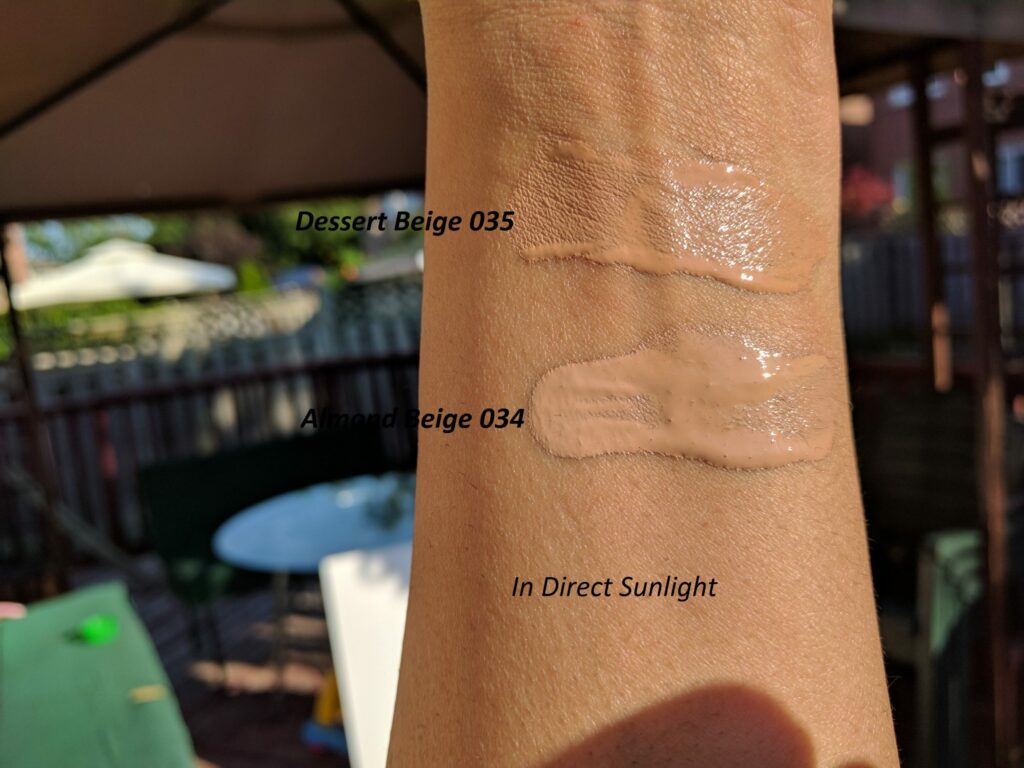 It does have a very faint scent in it which I like. The coverage of this foundation is light to medium and is quite buildable to full. The finish did look very natural luminous and not very matte, 'velvet matte' is the right word to describe. For me, it lasted very well for over 14 hours and more than that if I would not have washed my face before bed. I did use Diorskin Forever Concealer under this and they both paired very well. I used the Diorskin Forever compact as the finishing powder. I must say these three products do work very well together.
Dior Diorskin Forever Perfect Makeup Everlasting Wear Pore Refining Effect with SPF 35 retails for CAD $64 excluding taxes is available at all Dior retailers and their sites including Sephora.
What finish do you prefer for the foundation? What is your favorite foundation?