Givenchy Beauty has launched a new lip product that is a hybrid of lip care and makeup. Givenchy Rose Perfecto is a lip balm that enhances the natural colour of lips as well as imparts colour of its own. The Givenchy Le Rose Perfecto used to be my favourite lip balm plus lip tint for years. I am excited to have this newest version and launch in my routine. It is an improved formula with a new shade range inspired by the cult-favourite shades of Givenchy Le Rouge.


Packaging
Aligning with Givenchy Le Rose Perfecto packaging in the past, Givenchy Rose Perfecto packaging is very similar. The size of the newer version is generous compared to the earlier one. Givenchy Rose Perfecto is 2.8g or 0.09oz while the previous version Le Rose Perfecto was 2.2g or 0.07oz. It is sheathed in a genuine leather case in a soft shade of beige pink. On the top of the outer case as well as the lip balm bullet itself, there is a Givenchy 4G logo stamp. The silver stud and casing look beautiful with the couture pink leather case.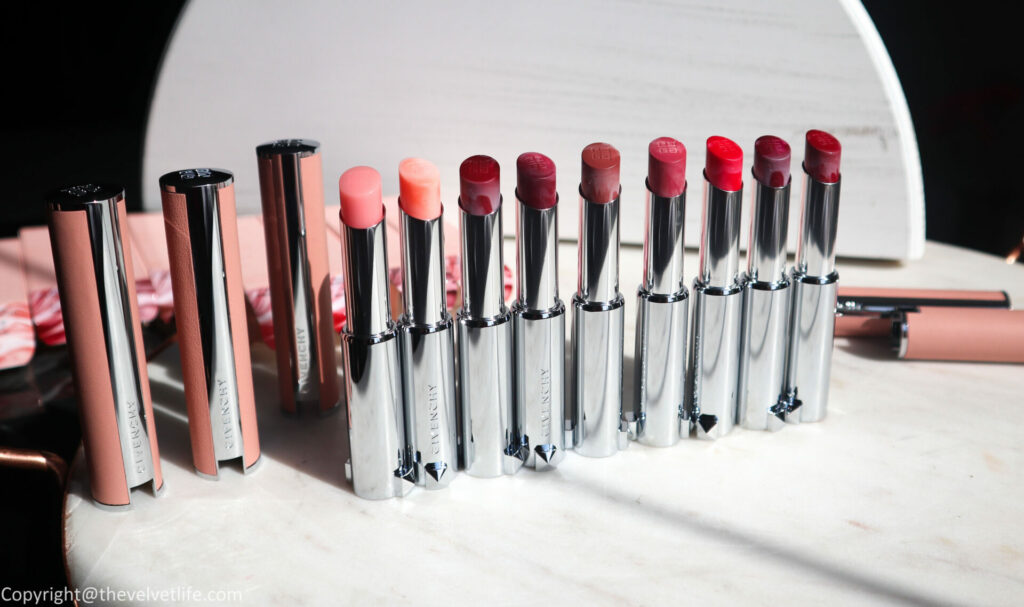 The ingredients of Givenchy Rose Perfecto include rose oil, hyaluronic acid, Vitamin C, pink pepper, and shea butter. They are all very nourishing and soothing. The pink pepper and Vitamin C energizes and give a slight tingle to the lips. Therefore, a plumping effect.

Shades
New Givenchy Rose Perfecto has 2 shades in one color and 9 marbled shades. Shade 001 and 002 adapt to the pH of the lips and the result is a customized color for your lips. The 9 marbled shades provide a wash of color to the lips while providing a plump effect to the lips.

I have swatched 9 of them below:
001 Pink Irresistible – natural pink that adjusts to the unique pH of one's lips
002 Vital Glow – transparent coral shade that adjusts to the unique pH of one's lips
37 Rouge Graine – sheer deep red, brand's best-seller shade
102 Feeling Nude – mauve nude
110 Milky Nude – sheer brown-toned beige
117 Chilling Brown – coffee toned nude, not swatched
201 Milky Pink – sheer luminous vivid pink
303 Soothing Red – sheer coral red
315 Berry Break – sheer raspberry
333 L'Interdit – sheer classic neutral red

My Thoughts
Givenchy Rose Perfecto has a balm-like texture. It is very smooth and applies well to the bullet. The lip balm feels silky and lightweight on the lips. It literally melts on the lips. I find my lips are nourished, smooth, and supple. There is a slight tingle on the lips and after that, the lips feel and look fuller. The feeling lasts for few minutes and is light enough to be comfortable. After that, I find the shade applied looks even better and blended in with a subtle plumping effect. There is a healthy glow on the lips which looks very natural.

I like that my lips are hydrated even after the lip balm has worn off. It works as a lip care treatment. Otherwise, the overall longevity of this lip balm is over 5 hours on my lips which is very nice while the hydration stays much longer.

The shades 001 and 002 enhance the natural color of my lips while the other marbled shades give a beautiful hint of color that lasts. Givenchy Rose Perfecto is truly a new favorite of mine. It works as a lip balm, lip treatment, as well as a lip tint. I really like how nourishing and soothing it is. The shade range is also impressive. I can see all the shades will work well with most skin tones. Even the sheerest of the shades, 102 or 110 look natural and nice on my medium skin tones with naturally pink lips. It enhances the color of my lips. Bright shades like 37, 303, 315, and 333 adjust to the lips to give a vibrant and beautiful finish that is luminous.


If you prefer a lip balm in liquid version, Givenchy Le Rose Perfecto Liquid Lip Balm is the one I like a lot. I am enjoying the new foundation from the house for the base makeup. Givenchy Prisme Libre Skin-Caring Glow Foundation looks so beautiful and natural on the skin. The natural glow and finish are perfect for everyday wear.
Where To Buy It?
Givenchy Rose Perfecto Lip Balm is available at:
Comment below if you have any questions or comments. Also, check my Bloglovin for the latest launches and products. Check out exclusive discount codes for my readers here.