The samples in my stash have been accumulating since the last Christmas 2015 and i have tried to use a part of them since then. Some samples are from the purchases i made from the brand, some from subscription boxes and some are from the reward points from Sephora.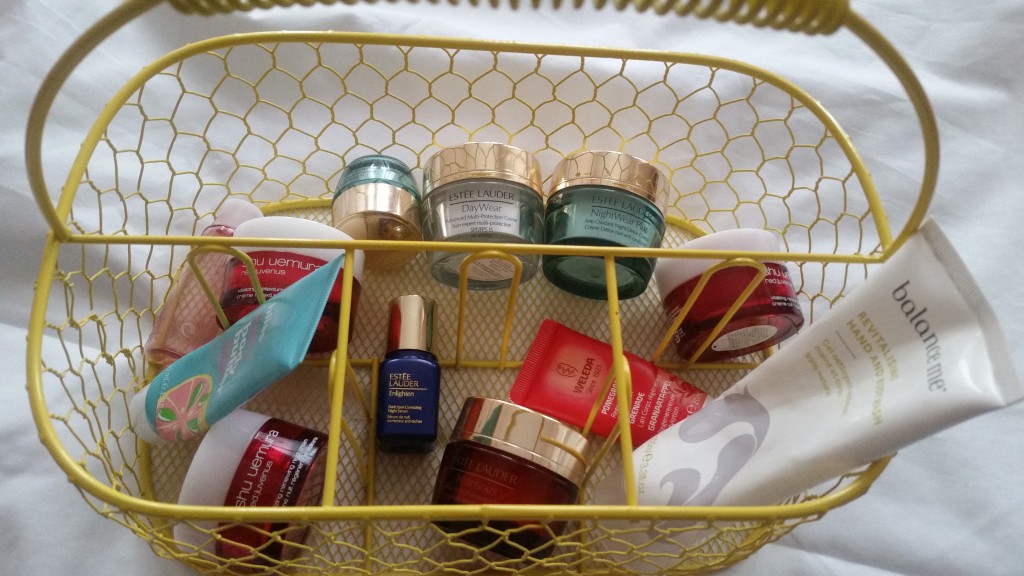 I have got many cream and moisturizer samples from Estee Lauder and Shu Uemura which i loved. There was not a single moisturizer from them which i did not like. All the samples i used up were delux samples ranging from 13ml to 15ml. On average, one sample lasted me for about 7 to 8 days when i used it once a day. Few of them i used during travel and others out of interest for sampling.
The Estee lauder creams i used were Estee Lauder Nightwear Plus Anti Oxidant Night Detox Cream, Estee Lauder Nutritious, Estee Lauder Day Wear Advanced Multi Protection Cream. All the creams suited my combination skin very nicely, i felt comfortable using them, no breakouts or irritation. I am now totally confident while using any of Estee Lauder products as i have used many of their products and they always lived up to their name. The creams had a nice medium texture and they never felt oily on my skin. I really look forward to buying a full size of one of them when i am finished with my huge stash of moisturizers.

The Shu Uemura creams i tried are Shu Uemura vitalizing renewing night cream and Shu Uemura vitalizing retexturizing cream. They are marvelous too, they had a really nice smell and the texture was quite thick and silky. I really enjoyed using them, they made me look forward to using them the next day or the night when i do my skin care routine. I am in love with this Japanese brand. Everything i bought and sampled from them makes me love them more. I tried looking these creams here in Canada on the Shu Uemura website, The Bay and Sephora but they do not have these here yet(But i do received these samples when i placed online order on Shu Uemura Canada website).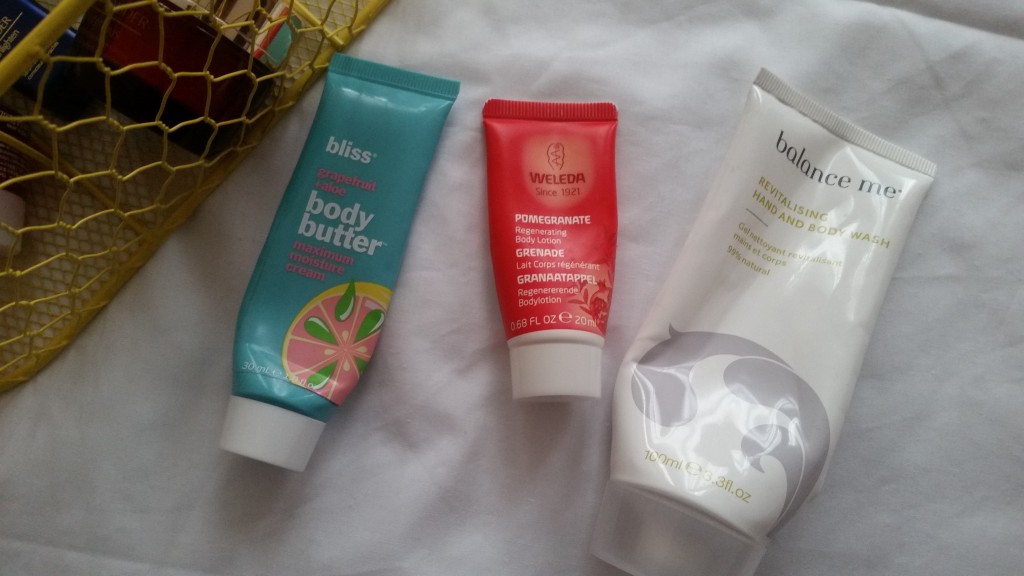 Apart from my regular body wash and body moisturizers, the samples i tried and used up are Bliss grapefruit = aloe body butter maximum moisture cream(30ml), Weleda Pomegranate Regenerating Body Lotion(20ml) and Balance Me Revitalizing Hand and Body Wash(100ml). All of these were in my travel bag and loved using them while travelling. The Bliss body butter is true to its name, really moisturizing and my skin was happy with it. I never felt any dryness or irritation anywhere. The Bliss body butter lasted me for a little more than 2 uses on my whole body. The Weleda body lotion is also a good one for body, i liked it and it lasted me for a little more than one use. Then comes the hero, Balance Me Hand and Body Wash. I mainly used it for my body. It has a opaque jelly like medium texture. It is very gentle and has a nice smell, not overpowering or anything. It is 99% natural and never caused any irritation or over dryness over my already dry body, although i use body moisturizer everyday. I still have one more of the same body wash with me that is still unopened and is in samples stash. I like this brand and will try something more from this brand in future.

I have already mentioned my love for the Estee Lauder Enlighten Serum which made me buy a full size of this serum. The full review post for this serum is here. Last, but not the least, the Shu Uemura Cleansing Oil for oily skin, this was also in my travel bag. I have the full size of the Shu Uemura Anti Oxi Skin Refining Cleansing Oil and with the generous samples from Shu Uemura with every order, i have a big collections of these minis that i keep aside for travel. I like this very much and is one of the first cleansing oils that i started using.
I hope you liked my sample empties and their mini reviews. Have you tried any of these products?