I am sharing the best spot treatments that have worked for me. Acne is something I have struggled with for over 20 years now. I have passed my mid-30s now and while I still get spots occasionally, I have finally started to get hold of what works and what does not work. Not that I have not had my fair share of visiting dermatologists and estheticians for regular facials but with time and experience, and while we are stuck at home in this unusual time – I understand my skin much better than I did last year.
Regular facials did keep my skin in balance and check in the past ( and I truly miss that hour of bliss). So, while I am at home now, I had to do something to at least look and feel good (it has literally been 1 year now). In this editorial, I am going to share the best spot treatments that I have tried, tested, and reach out for the most.
For your information, I used to have frequent painful acne breakouts, not just the ones on the surface but also the crazy deep ones (cystic acne). And those painful ones that were deep inside always left the worst spots that would take ages to go. So my first step was to work on reducing those breakouts and then to work on the spots that the acne breakouts left. I am focusing on the first step in this post.
Keeping the skincare products simple and straightforward, being consistent with the skincare products, religiously following my skincare routine day and night, keeping an eye on what I am putting inside my face were a few of the things that helped me control my acne. Now that I have occasional breakouts, I have few staples which I reach out for the most when I feel a pimple trying to sneak out of my skin.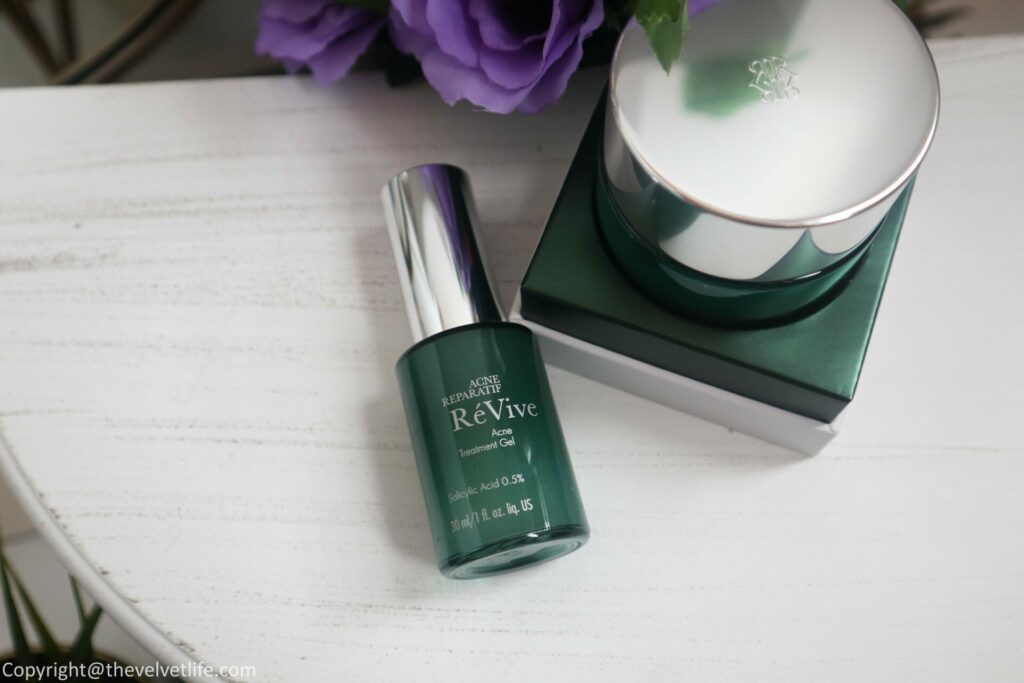 1. ReVive Acne Reparatif Acne Treatment Gel
ReVive Acne Reparatif Acne Treatment Gel It is a powerful acne treatment that combines anti-acne and anti-ageing ingredients that work together to keep the skin in balance. It features 0.5% Salicylic Acid as the acne treatment that helps clear and prevent new acne blemishes. I also noticed an improvement in my enlarged pores when using this treatment gel.
The gel is very lightweight and cooling when applied on the skin, sinks in quickly. I prefer using it once a day to avoid any dryness on the skin. The good thing is it can be used as a spot treatment as well as over the entire problem area. This treatment gel comes in a bottle with a pump, very easy to use and apply. Buy it HERE and use code VELVETLIFE25 to get $25 off this treatment gel.

2. Sunday Riley UFO Ultra-Clarifying Face Oil
Sunday Riley UFO Ultra-Clarifying Face Oil is one of my go-to when I have waited too long and need some quick fix on active acne. I personally do not use it on the entire face but it has to be one of my top spot treatments. I apply it as a spot treatment at night and I see improvement the next morning – not that it is all gone but definitely a noticeable improvement like shrinking the pimple and helps fast healing of the breakout.
UFO Ultra-Clarifying Face Oil is medicated dry oil to clear congested pores, treat and prevent acne, and smooth the appearance of fine lines and wrinkles for clearer, smoother skin. It features 1.5% Salicylic Acid that acts fast and also helps clear-up blackhead-causing buildup and debris from congested pores. When used as a spot treatment, I have never noticed dryness. As I use it as a spot treatment, the bottle lasts a very long time for me. Buy it HERE.

Epionce Purifying Spot Gel is a spot treatment that rapidly targets stubborn acne blemishes on the face and body. Penetrates pores to control acne blemishes and help prevent new acne blemishes from forming. This is one of those treatments that tingles a little and I have to stay it works very fast. It has never caused any dryness or irritation on my skin. The active ingredients in this treatment are Resorcinol Monoacetate 3.0%; Sulfur 4.0% – both works as anti-bacterial and acne treatment.
It has been very effective for my painful acne too and has helped it reduce and heal very quickly – less than half the normal time any cystic or painful spot takes to heal. This little tube goes a long way as I normally need a little dab to do the work. The texture is gel-like, very lightweight. And once more thing I like about this is the cute little tube and the applicator. Buy it HERE.

La Roche Posay Effaclar Duo (+) Global Acne Treatment is one of the first acne treatments I tried after I took a break from acne products after pregnancy. This really helped me regain trust in over-the-counter products that do work. Also, it made me even more interested in checking out more French Pharmacy products. I started using it as a spot treatment on my painful acne and it would tingle a little and start working on my problem areas without causing any dryness afterwards.
This is very gentle, even for sensitive skin types and yes, it works. It helps heal the skin and clears the clogged pores at the same time. I have seen it working on reducing the redness around the problem areas too. The tube is very practical, the nozzle works very well to dispense the right amount of product. Buy it HERE and HERE.
Have you tried any of the above spot treatments? Let me know what works for you like a spot treatment. And in case, I try something that comes in my safe category as the above 4 products, I will let you know. Till then, Take Care!