When you hear 'All Natural', either you think about something which does not have any chemicals or something which may or may not work for you as it may be not much strong. And when you hear 'Peel' it comes to mind as something that causes skin peeling and might be strong. Combining these two words, 'All Natural Peel' something natural and peeling, does that makes sense. Yes, it does. Your skin peel with natural ingredients means it is naturally strong enough that it works.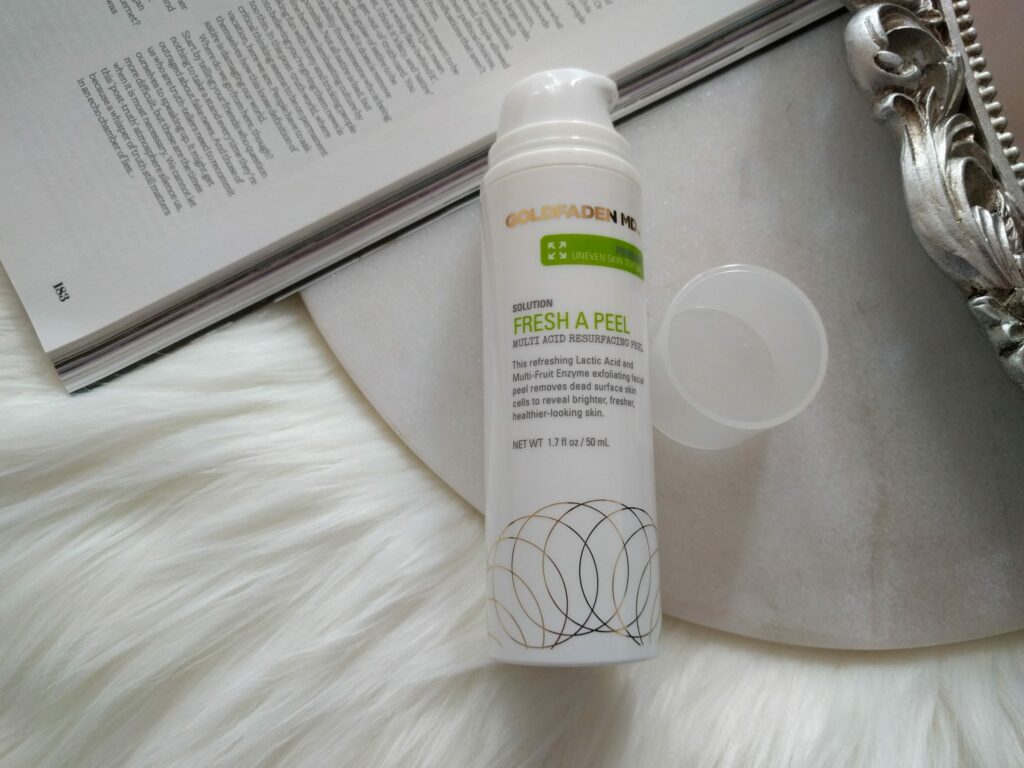 I bought this peel a few months back, almost at the end of winter, and have been using this every other weekend or sometimes twice a week, depending on what products I see on the front of my skincare shelf, I do miss some favourite products because of so many options to choose from. That is why I have been very regular and consistent with the use of this peel so that I can write a proper review with my thoughts.
Peels – What & Why?
Peels are a form of exfoliation. Exfoliation can be done on the body or face based on the requirement and need. They help remove dead skin cells which may or may not be visible in the form of dullness, and dryness. Peels contain acids that loosen the bonds between cells and dissolve dead skin away. Unlike the regular facial scrubs which have physical exfoliating ingredients, peel ingredients are not grainy or hard in texture but they are like a cream or gel texture that sinks into the skin, targeting deeper layers of skin cells.

Goldfaden MD Fresh A Peel
'This non-irritating peel reveals fresh, youthful skin. The unique combination of Lactic acid and Multi-Fruit Enzymes provides a superior rate of exfoliation. It also reduces the appearance of fine lines, pores, and skin imperfections. With continued use skin may become softer, smoother and look more radiant and youthful with a brighter and more even skin tone.', from Goldfaden MD's official website. This is advised to be suitable for all skin types.

I have loved the results of this peel. This peel has a gel-like texture. It comes in a beautiful white and green bottle with a pump to dispense the product. I take one and a half pumps of the product on my fingertips. Then, I apply it over my face including the neck and excluding the eye area. It is advised to keep it on for 2-3 minutes but as per my experience with peels, and the toleration of my skin, I keep this for 5-6 minutes. As my skin is tolerant, I do feel the tingly effect of this peel on my face.
I wash it with cold water and TA DA, my skin feels fresh and glowy. I use my moisturizer after patting my face dry to lock in hydration. This gives a smooth and fresh appearance to the skin. It's mild but effective. With regular use, my skin looks bright and has an even texture. With regular use, I do notice fewer breakouts. I make sure to use sunscreen in the morning whether I am staying home or going out, sunscreen is a must.
I have loved both the products I have used from Goldfaden MD and looking forward to having some more. If you are interested, I  also reviewed Goldfaden MD Fleuressence Native Botanical Cell Oil a few weeks back.
What is your favourite form of exfoliation, Physical or Chemical? Which is your favourite exfoliation product these days?
Where To Buy It?
Goldfaden MD Fresh A Peel is available at:
Comment below if you have any questions or comments. Also, check my Bloglovin for the latest launches and products. Check out exclusive discount codes for my readers here.